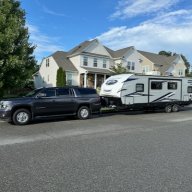 Joined

Feb 16, 2018
Posts

4,618
Reaction score

10,573
Location
Yep, the truck will run with an unstuck lifter. In fact that's the purpose of doing the procedure. It will eliminate the rapping sound and the misfire that goes with it.
We've all been in over our heads, but I don't know any other way to learn. For some folks, learning how to wrench on their trucks isn't a priority. Maybe they make $500K/year and can afford a new Suburban every other year. Or maybe retirement is still 2-3 decades away for them. Or maybe they don't have kids to put through college.
But for the rest of us workaday schmucks, to buy a brand new Yukon XL Denali is like torching a briefcase full of money. It'll lose $10K/year in resale value for the first 5 years. My wife and I make good money, but we have 2 kids to put through school in the next 10 years and we'd actually like to retire someday.
Texas speed puts together good DoD (AFM) delete kits. Also, each option they offer you to choose can generate a debate on these pages in itself. Cam choice, VVT/no VVT, lifter choice, spring choice - folks have strong opinions about all of them. The good news is you'll have plenty of input if you open it up to discussion here.