Joined

Jul 29, 2010
Posts

773
Reaction score

24
So here is my retrofit project...this is long...lots of pics...
It was DenaiAK's retro write-up t that got me interested in a similar retro for 00-06 Tahoes...I didn't want an out-of-the-box solution. This projects ran me $500 for everything part wise. Besides the Depo headlights & the retrofit parts listed below I had to buy epoxy, silicone, & a piece of flat aluminum bar for fabbing the support brackets.
I probably overbuilt them & it took about 14 hours to do the whole project over a few weeks. I did a little work here & there when I had time but most of the delays were because of epoxy curing & silicone curing.
I started with Depo projector housings for 00-06 Tahoes & after looking around a little, asking some questions, & doing lots of Google searching I decided on a Lexus RX-AFS/TSX-R projector.
Really, before I started this job, I only knew that the Depo projector headlights fit without modifying the supports or washer fluid reservoir & the Lexus RX-AFS/TSX-R projector were not quite a deep.
Now...on with the pictures...
---------- Post added at 11:46 PM ---------- Previous post was at 11:44 PM ----------
Got my HID retro parts from Matt @ retrofitsource.com...
Phase I
...basic projector prep & equipment info...
Here is my collection of goodies...
1x Pair: Lexus RX-AFS/TSX-R low beam projectors
1x Pair: Clear optic lenses
1x Pair: New Matsus h i ta Gen IV ballasts w/ brackets
1x Pair: Morimoto 3Five 5000K D2S bulbs
1x Pc: 9006 relay wire harness
Close up shot of the opaque stock Lexus RX-AFS/TSX-R optics...
Another shot of the stock optics...
Stock optics removed...
Clear optic lens sitting in the housing. This lens is slightly smaller in diameter & requires a compression ring to keep the lens centered & secure...
Clear lens fully installed...
Stock driver side Depo "donor" headlight front...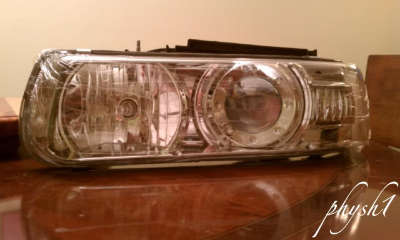 Stock driver side Depo "donor" headlight back...
Mounting bracket removed...
The Depo projector is siliconed in place. I'll need to heat the area up with a heat gun to soften the silicone enough for safe removal. Once that is done I can start test fitting, trimming, & modding the housing to cleanly accept the Lexus RX-AFS/TSX-R low beam projector.
Last edited: