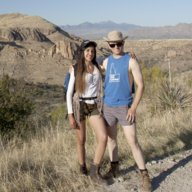 Joined

Dec 28, 2017
Posts

1,654
Reaction score

1,070
Location
I'm getting some questions on my engine build / swap. It's a BEAST love the motor!
Goals:
Swap the 5.3L for a 6.0L without sacrificing too much if any efficiency. Optimize for part throttle response, low end torque. I mainly road trip and explore rough forest service roads in South West.
Challenge:
everybody and their dog has built a high peak out put motor and thrown it in their truck. That is a motor that makes big numbers up top like a racecar. The issue with that is, you sacrifice low end torque. So on trucks they typically throw in a high stall converter. This is bad for efficiency and life of engine. You have to rev up to get the power and not very conducive of my goals / doing truck things. This is a build to reliably & efficiently build low end power in a truck. Further improving on Gen III LQ9 6.0L.
Build List:​
Bottom End:
- 6.0L Iron Gen III SBC Block
- LQ9 pistons w/ the LQ9 full float Wrist Pins
- My old 5.3L crankshaft (note rebalanced)
- Melling factory spec oil pump
- All new seals
- Factory spec main bolts
- Melling timing chain and gears
Top End:
- Factory intake from my 5.3L (same intake)
- Factory throttle body from 5.3L (mine is cable driven)
- Factory PCM (note the reluctor ring changes after a certain year 2003?)
- Factory 317 Heads
- Factory PCM from 5.3L (will run engine on that tune)
- Factory 24 lb injectors (haven't done WOT tuning / testing)
- EGR cut off plate (PITA to tune w/ EGR)
- Manning 11/32" x 0.120" Series 3, three piece pushrods (still testing)
- Bronze Trunion kit (burnt out at 12,000 miles) switched to Yella Terra Shaft Mount Rockers
- Johnson 2116 LSR link bar slow leak down lifters
- Custom cam from Vinci Hi Performance M/T #562 0.578/0.587/213/220
- Custom dual springs & retainers & seats from Vinci Hi Performance specs below:
VHP SS/SK kit w/ retainers
[email protected]
"
[email protected]
"
[email protected]
"
[email protected]
"
Injector controversy​
If you can source the injectors from the 8.0L big block engine I'd do that. I have the part number and need to find it to put in notes here. However, so far I've been running and tuning with the 24 LB factory spec injectors and had no issues.
Note: I've yet to go to WOT or even to point where PE kicks on so I cannot speak to that yet.
Component Reuse​
I had been an idiot and blew up the 5.3l tinkering around. Shot a rod through side of block. Then I couldn't find a complete 6.0L near me only a bare block so went this route of sourcing all the components. Honestly, you'd be better off to find a LQ9 possibly change rod bearings, cam bearings, swap the cam, and use it. These engines are built VERY well. Mine had 230,000 miles give or take and was like NEW when I opened it up (aside from hole I made).
Many of parts from 5.3 are same on 6.0
- Intake
- Throttle body
- exhaust manifolds / exhaust
- crankshaft (weight though?)
- PCM
- Injectors & fuel rail
- Valley tray & various sensors
Note make sure your crank shaft has the correct reluctor wheel for your crank sensor / computer. This changes after 2003?? Additionally, newer engines put the cam sensor on the timing cover. Mine was on back of the block.

Note make sure to do your research, when using some of the older castings a crank snout adapter maybe required to get the correct spacing between your pressure plate (flywheel if manual) and transmission. Some of the older blocks (or cranks) were farther away from the transmission. I forget the details. The spacer can be bought at Summit Racing among other places.
Heads​
I used the 317 heads from the factory spec LQ9. They were cheap and easy to source.
Ideally I wanted AFR 205cc Mongoose heads.
The goal is to get high vacuum at low RPM. The smaller intake flow heads achieve that. Roger Vinci also recommended these heads and helped spec out my build. I called AFR and you can get them w/o their springs on them. You don't want their springs as they are too stiff (unless you're building a high revving racecar). The springs Roger sources are better as they have a bit lower pressure and soak up less power from your low end torque.
I polished the heads. This is VERY easy to do, only takes time. I polished all the combustion chambers to a mirror finish. I then did the same with the exhaust chambers. I don't much believe in polishing intake chambers, only knock down high spots if you really want but I don't feel it helps much. Only thing
I wish I had matched the combustion chambers.
There's cheap tool to do this / measure their size. Wouldn't have taken much more effort.
I then had a machine shop clean the heads all up for me. Note, I had the heads from my 5.3L and the machine shop HIGHLY recommended putting those on the truck. However, I'd have had to run premium fuel. The shop, Racer's Edge, in Tucson Arizona said they can even port, polish, and add bigger intake valves to them for $1000. He has a 3 axis CNC mill with a routine to do this. Maybe a decent less expensive route to AFR... However, I need to run 87 octane. Some places I go don't sell premium gas so wasn't an option for me.
Valvetrain​
Camshaft
: Roger helped me spec this out. I was looking at Xtreme Profile comp cams setup but worried about the high ramp profile. I called Roger and asked if he could build something similar w/ a gentler lobe profile. Then explained what I wanted to do (Goals above). He build me a cam from best materials available and sold me the springs w/ seats & retainers for LESS than I could have bought an off the shelf cam.
Springs:
I've seen the beehive springs break and wanted the extra safety margin a dual spring offers in that respect. However, I couldn't find any dual spring setups with lower spring pressure for my build. Roger helped me with that too.
Lifters:
this was and IS the hardest part of my build. I didn't know what I was buying. I know I DIDN'T want to use those plastic lifter trays. I wanted something I could count on 100% so that was link bar lifters. Granted, it maybe impossible to do a cam swamp w/o pulling heads now but that was something I was okay with. Another engine builder said use nothing BUT Johnson Lifters. I found a good deal on a set of 2116 LSR lifters.
These are EXTREMELY hard to setup. They have a very tight preload as well as require a longer than factory length pushrod, the 7.400" factory. Mine are around 7.6" give or take. You have to measure all these preloads and I've easily spent 80 hours learning how to, doing it wrong, and doing it again.
Order LS7 spec lifters... If you share my concern find a set of link bar lifters with the LS7 spec.
These 2116 LSR lifters are AMAZING but I literally have an extra $1000 easy in JUST them not to mention the 80 hours learning to, and setting them up.
Rocker Arms​
I'm making a whole section on this because I already burned up my rocker arm rebuild. Will make a reply to this with that story. I did what a lot of people are doing. I installed Bronze Trunnion rebuild kit. There's a really popular style kit sold all over the place. It's not that great. I ordered that kit not realizing much more about it or any other kits.
Putting it together I wondered how it lasts. There's a point of friction at bottom of bronze bushing where spring pushes it up against the trunnion. My concern was warranted. After 12,000 miles ALL my preload on my lifters was gone. The bronze bushings had egg shelled out.
At that point I looked at a LOT of rocker arm options. Several people suggested a Che Performance, or Manton Performance trunnion kit. This kit is much better but still a wearable part. I didn't want to mess with them again so I threw those options out.
Here's my thinking... A lot of people go too far in my opinion to get rid of the roller bearings. I think needle roller bearings are superior to the solid bushing setup. They should in theory have far less friction. Only issue with factory is they don't have the best means to capture those needle bearings and sometimes they come out in the engine.
I saw this as I got a bunch of factory rocker arms and took them appart choosing best ones for rebuild / reuse on my build. Many of those needle bearing caps were loose.
Long story short, Roger helped me source, Yella Terra shaft mount roller rockers. These are superior to factory in many ways. They are lighter, shaft mounted, roller tip, larger roller and more needle bearings, etc. etc. etc. So I went that route.
Rotating Assembly​
I had the crankshaft from my 5.3L engine and didn't want to search for one out of a 6.0L. I could never get this one question asked. Are they the same? The casting numbers are the same. However, the piston weights are different. Don't quote me but I believe the 8 LQ9 pistons were 40 grams heavier. The rod length is the same though. However, I had broken a rod in my old engine and they were the semi floating pins so I wanted to update to the LQ9 full float.
I bought new factory spec LQ9 pistons; LQ9 full float rods off eBay; and Molly brand piston rings off Summit Racing.
Then I had the whole assembly balanced to within 1 gram.
Upon assembly I used King main bearings... I had ordered the summit house brand to safe a few dollars and they were King Bearings. Everything was to factory spec. Then sealed power rod bearings. They were just factory spec bearings. I checked oil clearance with plasti gauge of course.
I believe the LS1 crankshaft is the same as well but is rifle drilled in areas to make it lighter.
If you can find a good deal on an LS1 crankshaft you may like to use it instead.
It would have less mass to spin up.
Note: my 5.3L was torn down at 235,000 miles. All bearings looked like NEW including the rod bearings.
Tuning (almost need another thread for this)​
This setup can start and run on the 5.3l tune. However, it can get confused at times and throw and engine code because it cannot figure out the fuel trims. You want to keep a close eye on that.
I'm using an HP Tuners setup to tune the engine. I cannot recall the computer designation but it's a airflow approach. Newer computers are torque management approach. Is pretty easy to tune but STEEP learning curve.
I've been tuning mine baselined off the factory 5.3L. I bought a wide band O2 and got it all hooked up. However, much easier and advisable to do with factory O2 sensors (minus WOT).
Last edited: