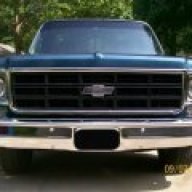 GM fan for life
Staff member
Administrator
Supporting Member
Joined

Jan 3, 2011
Posts

49,750
Reaction score

14,867
Warning: this is a LONG read but may hold valuable information for others experiencing this same issue. This is what I've experienced and what seemed to work for me. Things may be different for you.
Let me start from the beginning....there's also an amendment at the end of this post
---In June 2013 the family and I were coming back from family vaca. About 20 miles out my check engine light came on and started performing rough. Due to the fact that I had my whole family in the car I limped it home and then had it towed to the shop from there after we'd unpacked and kids were inside. The issue was a DOD (Displacement on Demand) lifter failed on cylinder 4. The fix was replacement of all of the lifters on that side of the motor. Shortly thereafter I had a blackbear tune done which tuned out the worthless DOD "feature" for good. During this fix a oil change was performed. Unknown synthetic blend oil was used and unknown brand of filter.
--October 2013 we are on mile 3100 of the oil change and I was planning on doing it the next weekend when I got the "Low Oil Pressure" warning while out and about. The oil level was good. I turned the vehicle off and back on and it'd come back up for a while but then gradually drop back down again so I took it into the shop. The first fix attempt was a new sensor and screen (sits just below the sensor). This did no good so the shop looked at it a couple more days. I read a thread on here that said an oil change fixed it so I had them try that and that seemed to fix the issue. This was done again with an unknown synthetic blend oil and unknown brand of filter. I was finding this very odd as I'd never had an oil filter fail.
--January 2014 we are at about 2800 miles on the oil change and the same symptoms happen again. This time in the middle of the day and the wife is running errands and can't go more than 5 miles without having to shut the suburban down and back on again to get home and keep oil pressure up. I rush home on my lunch break and take it to the quick lube (which I HATE but had to get her back up and running again ASAP). They put in 5w-30 Penzoil as well as a Penzoil filter. At this point I'm aware something is up but I'm not sure what. The likelihood of two filters failing in a row seems pretty low.
--February 2014 just 1000 miles into the oil change it happened again. Of course, it's snowing now and about 15* outside but I'd had it and was going to do something about it.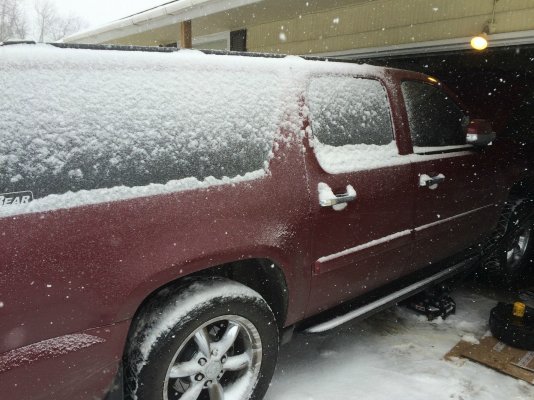 I was literally ready to set it on fire and walk away but the wife talked me off the ledge LOL
WHAT SEEMS TO HAVE SOLVED THIS FOR ME....
I came to the conclusion that part of the problem was cheap oil filters. Whether this part is true or not I'm not 100% certain but either way it's part of my fix. Prior to the lifter issue I'd been using K&N oil filters. So I got back to that and started using K&N oil filters again. This is not necessary I'm sure but it's one I like for a multitude of reasons. I also used a couple of additives in my oil change for February. The first one was a motor flush that you add, let the motor run for 5 minutes and then change the oil. This is to break down any sludge that may be present and clean the engine real well
I then changed the oil using Valvoline Max Life synthetic motor oil and the K&N oil filter. After a LOT of research I also used a product called Rislone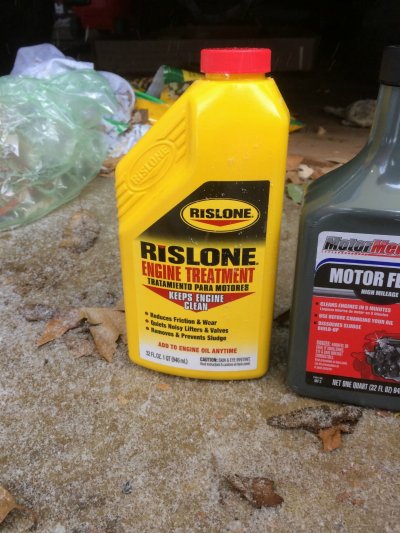 I only used this with the one oil change. I'm now about 5000 or miles after this treatment (and two normal oil changes) and have not had the issue come back even after a 1600 miles road trip. I even let one oil change go 3500 miles just to see how it was holding up and seeing if I could make the low oil pressure issue happen again but could not.
So this is what I've found thus far. I my add more to this as I learn more. Hopefully this helps someone resolve this issue. It's a VERY frustrating issue.
EDIT
: this issue cropped back up again about a year later. Looks like the issue is fixed! The culprit is a screen that sits between the oil sensor and the oil flow. It gets gunked up over time which in turn leads to false readings.
Here's a pic of the screen that was removed
Last edited: