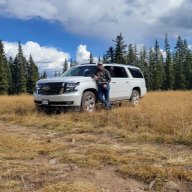 Joined

Oct 6, 2022
Posts

46
Reaction score

55
Hey everyone, I'm wanting to install a full DOD delete and cam from Texas Speed & Performance before the lifters go out, but I need to know when can I expect the lifters to fail?

My 2017 Suburban 5.3 is sitting at ~85k miles right now and I'm wanting to save up for a full camshaft/DOD delete kit/reseal before it gives me issues.

I do a lot of highway driving so I rack up the miles fairly fast. I've already put 20k miles on it since I bought it in late September, with another 5k planned by the end of May, so I'll be well over 100k in a year or so.

I use Amsoil Signature Series 0w-20 and the matching Amsoil oil filter along with oil change intervals usually between 7500 and 8500 miles.

Thanks in advance!
Last edited: