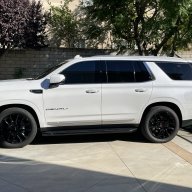 Joined

May 2, 2022
Posts

43
Reaction score

52
Picked up our truck (finally) after a 9 month wait on the custom order -January 9th. 2023 Yukon Denali with 6.2L. Logged some good mileage, really enjoying the vehicle and all it has to offer. 3600 miles later and exactly 1 month to the day on Feb 9th -
Driving home 1 block from my house, engine shuts off, car goes into neutral and that's it. I rolled up the hill and pulled over to the curb. Both Kids asleep in the back on an 80° day. Battery good. Car wouldn't turn over at all. First flatbed couldn't get us because the car was locked in park and didn't want to damage drivetrain. (3pm) Service dept at the local dealer knew no way of manually unlocking the transmission / getting the car out of "park".
Fast forward six hours later (9pm) via GM roadside assistance, second truck arrives with correct dolly equipment, all four wheels off the ground and away we go. Cars currently sitting at the dealer with no status updates (after 1 full day) other than potential serious internal engine issues.
What bugs me is zero warning lights, zero signs of issues, really zero anything to clue me in that my vehicle is about to fully fail. With all the tech available, I'm just dead in the water on the side of the road with two sleeping kids in back .. luckily my brother in law came to the rescue in his Tesla.
My first GM Vehicle and really a pretty awful experience. Had high hopes for the 6.2L and all of the great tech this Yukon had to offer. More to come here