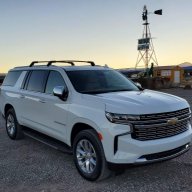 Joined

Jan 19, 2022
Posts

117
Reaction score

62
23 Suburban Duramax 3.0 here. Considering a snap-on grille overlay but am concerned about the potential reduction in airflow and the impact to the engine/vehicle.
Can anyone comment on their experience if they've used an overlay or comment whether the reduction (or redirection) in airflow could be substantial enough to impact fuel mileage/cooling ability? As I understand it, airflow is more crucial to a gas engine for fuel performance than a diesel; correct me if I misunderstand. But I imagine cooling would be still be a factor for diesel.
Would impact be tolerable in normal conditions but exacerbated under load (e.g. towing) or in high heat (currently residing in Mesa, AZ with 120 degree summers)?