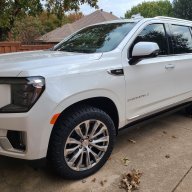 Joined

May 10, 2019
Posts

56
Reaction score

76
If anyone is interested in another "review" of the new '21, here is my feedback on it after about 800 miles. I've owned Tahoes/Yukons since 2001, so I've got a lot of experience and over 750,000 miles. The latest is a 2018 Denali, so it will be the benchmark for this comparison.
1. Fit/Finish: Paint is nice (except the gouge in the mirror edge from transport). No discernible rattles or squeaks. The interior is fantastic. The leather dashboard is very regal. I ordered the dark walnut / ash grey sight unseen during the order process (there were no real pictures at the time). The walnut is classy, but the grey plastic sort of looks like faded black after 10 years and cheapens the look. I wanted a little lighter carpet than the Jet Black to keep dirt from being so obvious (which it accomplished), but the Ash plastic probably should have been black. It's still nice, but just an opinion. The seat leather is about the same as the last generation. There is more leather overall.
My front glass has a linear crack-like flaw dead center vertically. It's deep in the glass and will probably propagate to a real crack over time. I noted it at delivery and am waiting to see what will be done. I hate to think about breaking that seal and pulling that trim right out of the gate...
2. Drivetrain: Same 6.2L as before mated to the 10 speed. Yes, it now has a pushbutton shifter. I thought that I would hate it, but actually it's grown on me. I use the electronics to save me two seconds on the end of a trip: Just kill the engine and it shifts into park automatically. Manual "shifting" is a joke. It has an electric parking brake now and it engages automatically if you park on a hill. Not sure this was something the market needed, but welcome to the zillion actuators in our auto future.
It now has a few drive modes, including sport. That's a welcome addition. It holds a little longer in a gear for ready power.
It shifts pretty well (there's no indication of what gear you are in though) and acceleration feels about the same as the 2018, but I have not put my 0-60 timer in it yet to quantify any difference.
I'm getting about the same sort of mileage as my 2018 at the moment (18 average). I expect it to get a MPG better after break-in and the switch to Royal Purple oil. The variable displacement is seamless ( I guess; there is no more indication of how many cylinders are operating now).
3. Ride: The IRS rear is obviously better for bumps, but really not a drastic difference. Part of the feel is from the rock hard Alenza tires. I don't mind and actually like some road feedback so it's not a problem. It corners about the same. The IRS has suspension parts that are really low for ground clearance. If that's important for off-roading, you've been warned.
The turning radius is similar to the '18, even being a longer vehicle.
4. Noise: I'm the type of guy that likes noise, and will probably be putting a new exhaust and intake on it. Yes, it's very quiet and I think it actually has some noise cancelling tech. If you like quiet rides, you will be happy.
5. Climate control: I was concerned that the AC size might fall victim to the CAFE gods. We had a 95 deg day and it worked superbly. It still suffers from far too much airflow at the lowest fan setting as the last model, but you now can choose to open the defrost, front, and foot dampers at the same time, which will slow down the air in your face when you just want a gentle breeze.
I think the fans in the seats work better than before and are not as loud. The heated seats seem equivalent in the 10 minute test I ran.
6. Seating: Seats are nice. I've made a 2.5 hr trip recently. I like the elbow placement better than before on the console. They have similar adjustments as the '18. They seem similar in support and shape to me. Note that the movable pedals are gone this generation. It moves closer to the dash than before, but my 5'0" wife still cannot drive it without a pillow as in the '18.
The hoodline is much higher in this model. You will feel like driving a big rig, good or bad. The suite of cameras mitigate some of the loss of parking visibility. It feels like you are sitting just a little taller in this model.
We special ordered the bench second row, which we love. It makes a fairly flat storage area in the rear (much flatter than before). We are a two person family, so the 3rd row is useless to us (and I wish it was removable like 2 gens ago) and they have been folded up and won't see daylight again until I sell it.
There's a lot more floorboard room in this generation (it's 6" longer overall, so there's that...). I approve.
The side mirrors are about 100% bigger in area...big win.
The auto running boards are much quieter now as well.
The sunroof is now the typical double size unit as its competition. Way overkill, but I get it. I don't like that the sunshade goes to the farthest position at the first one-touch. I would rather it stop behind the driver first. Also, you can't just push the roof closed and have it first close the shade, then the panel. You have to do each separately. Really? There's 7 computers here, and that simple logic can't be found?? The sunroof is fairly quiet at 80 mph. It did throw some water all the way to the dash during a light mist outside. No big deal, just keep a microfiber rag handy (which you will need for the infotainment screen anyway.
7. Braking: Similar brake feel, even with the all new electric brake assist. Note the brakes go through some sort of check about 2 minutes after shutdown and they make a lot of noise under the dash if you're still sitting inside. Haven't got to test the emergency auto braking, but might try to push the boundaries and see if they actually work at some later point in time.
8. Lighting: The LEDS are super white. I'm not convinced they actually have more lumens than the HID of the '18, but the white light makes you feel like there is. The high beam is better than the '18 and the Auto High-Beam system works well and I find myself actually using it. The fog lights are really pitiful for as big as they are. I might try and aim them a little higher and see if I like it better. My aftermarket LEDs on the '18 are about double the output of these stock ones. They certainly aesthetically look fantastic from the front and the DRLs are much nicer.
It has good perimeter lighting and the illuminated GMC logo target on the ground is a clever idea for the rear hatch foot opening.
9. Safety systems: The lane assist is slightly improved from the last gen, but no real leap of tech. I'd love to try the Super Cruise that will be out in the next year or so. Cruise control is similar, but it might allow a slightly tighter gap on the lowest setting. It's still far too big in my opinion, but I'm sure the lawyers would not allow it. The perimeter parking alarms are similar as before as well as blind spot detection.
10. Cameras: Wow.. This thing is monitored like Fort Knox. It now as 360 views (finally) and the ability to see the curbs before your wife scratches the rims parking
The trailer hitch view is better and you can switch main cameras on the display. The rear camera looks like HD level of clarity now and is so much better than before. I don't think it has the Invisible Trailer tech that the trucks have, which is a real miss. We pull trailers too, GM!
Speaking of trailers. Spend the extra $50 and get the pack of extra TPMS sensors to put in your trailer and integrate with the truck. This is a no-brainer and can save your life.
One party trick is the addition of an extra rear facing camera. Flip a switch on the rearview mirror and an LCD comes to life and provides you a much larger viewing perspective. Probably nice in heavy traffic. I however, found it distracting personally, but it's nice to have.
11: Dashboard. It's a similar layout to the '18 at its core. There's more information on the home screen (the screen is bigger). The resolution is much better. I wish it had more customization and more layers to actual engine and driving parameters, but if you were happy before, you will be happy here.
HUD: It's bigger than before, but honestly, they don't use that space for much more info. It's just data spread out over a larger area. That's a miss in my opinion. I'd rather the info be confined to a smaller visual space for my brain to process. They still cannot get the lighting synched better between daylight and night, so you find yourself adjusting the brightness manually again.
12. Infotainment: Fantastic! The new, large, screen is probably double the resolution over the old one and moves faster. The colors are great. It's a gloss glass, so keep a microfiber in the console for fingerprints.
XM finally has "DVR" for the radio. My Jeep had this in 2014, so I'm glad GM caught up. It's nice to pause and skip now.
I think you can store as many favorites as you want (I have not hit a limit yet).
XM shows the album covers now like other manufacturers.
The Denali sound system is outstanding in clarity and volume. I run with my windows down a lot and it's easy to hear at 60% volume. Big win!
They finally got the voice recognition into the 2000s. My 2018 is just pathetic, but this one has been error free so far.
I use Android Auto, so I can't comment on the NAV yet, but AA is still buggy (I'm sure it's Google's fault). You can now use AA wirelessly, so that's nicer. But it still needs refinement in the connection and release of AA when done.
There's some improvements to the customization this generation, but nothing Earth-shattering. There's a new "User" menu for different drivers, but I have not gotten to play with it since you have to have your myGMC credentials at your fingertips.
I intentionally deleted the rear entertainment system on my order to save money and to get rid of those huge screens that I would break so I can't comment on the rear.
13. Things that piss me off: We all have them...
First, the charging ports don't support any fast charging standards. That's a shame, especially with USB-C now. They deleted the in-console 12V plug, which I used for my quick-charger cord. That's really dumb and I'm going to have to add another 12V plug myself now. The wireless charging mat was moved to the space below the radio, which will now work with my bigger S20 Plus. However, that valuable real estate is gone if you use it. Why not just make the original console hole slightly bigger??
Auto-stop. Yep, it's finally here. Nope, you can't permanently turn it off. Sure you can toggle the switch, but I still have not developed that habit. So, wear out the starter, or the switch...you decide. Both will wear out on your nickel, so GM doesn't care. The fuel savings have to be negligible.
Engine auto shut off. I work out of my truck and also leave my dogs in there while we travel and go eat, etc. It shuts off after 30 minutes MAX. I'm not talking about auto start, I'm talking about keyed startup and sitting inside your truck. You can't do anything about it. This one really chaps my hide since I work in my passenger seat for more room. If you have pets, be sure you are aware of this or they will die in the summer. If you stop in the winter and pull over for a late night quick nap with the heater running, you will have a rude hypothermia awakening in store for you!
My GMC all weather floor mats did not get included with the order. I was not charged, but now I have to try and get them after the fact and I believe they are backordered and I'm sure I'll be second in line to existing factory builds. I'm not a fan of my Weathertech mats in my '18, so I might wait on them.
Summary: Overall, I'm happy with the truck. I would love to tweak some of the things in a perfect world, especially at $80k. Time will tell if all these extra electronic items will stand up, as I typically run my trucks to 150-200k in a few years. If you are on the fence about upgrading but not in a bind, I would suggest waiting a little longer till the 2022s are out. Maybe then, there might be some actual discounts other than the current $1k Costco and some of the bugs might get rectified that are sure to surface in the coming months. Honestly $80k is stupid for a SUV, but here we are...
I hope this helps answer some of the questions others might had that I was wondering but didn't know at the time of placing my order back in July. Here's to another overall win for GM.
Last edited: