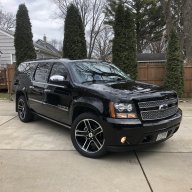 Joined

Feb 5, 2020
Posts

6,932
Reaction score

15,716
Location
Mods: if you wish to merge some of these threads please do.
Thought I would put some of my threads on our Envoy XL here.
We picked this up in 2011 for $4200.00 with 135k on it. It has served us well with only regular maintenance, repairs and tires. Had some flakey transfer case issues that I resolved with a used TCCM from a 2004 and a new shift motor. A new Cat Converter and some coils.
She now has 261k and is in need if struts again so we are fixing it up.
Threads:
Hey Guys, Anyone ever replace the compressor clutch on an Envoy or TB? Ours gave up cooling when it's hot. The compressor wont engage but if I hose it down with cold water it will engage again and cool. Was going to pick this up...
www.tahoeyukonforum.com
Guys, I have been working to resolve an issue with the mode door on our 2002 GMC Envoy XL. I have replaced the actuator several times with mixed results but always ending up inoperable. I have not used a genuine GM part yet but the next one will be. I believe the part number is 89018539. Each...
www.tahoeyukonforum.com
2002 GMC Envoy, 4X4, 4.2L I6 262,000 Miles No DTCs and none pending Solid 58 PSI fuel pressure while running. Stays there when exhibiting the problem New set of Delco Iridium plugs clean fuel and air filter Oil has 1,000 miles on it. The wife said her Envoy didn't seem to have the power it used...
www.tahoeyukonforum.com