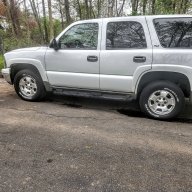 Joined

Nov 4, 2021
Posts

1,585
Reaction score

2,779
Location
Based on what you have shown so far, I like where this diagnosis is heading.
Original hunch on O2 sensors is looking pretty good as possible candidate.

That would be great if this is the case. O2 sensors are relatively easy and not very expensive.

Don't bother doing anything with downstream sensors (B1 S1 or B2 S2) just because you might be in there for the upstreams...
They really don't do anything to affect how the engine behaves. Don't replace unless you get specific codes for them (catalytic efficiency codes).
Save the money for other stuff.

I know AC Delco is preferred on a lot of things, whenever possible. No doubt.
Cost and availability don't always line up with the wallet or having to get the job done so you can get to work the next day.

Delphi O2 sensors and fuel pumps seem perfectly acceptable anytime you can't go with Delco replacements.

For O2 sensors, I replaced both upstream sensors on my 04 5.3L (regular gas) back in November last year.
No issues with the system whatsoever in 10 months of daily driving.

They are normally $55 each, which isn't bad.
I got both for about $88 with the 20% bucket sale.

I kind of think Delphi might have even been the OEM supplier. They made almost everything else that was electrical on these Chevy trucks...

P.S.: If you ever do need to replace the downstream sensors... They are easy to remember what to get. GM engineers made it easy on everyone by using the exact same sensors in all four positions! My 05 Jeep 4.0L had a different sensor for every position. Part numbers, pigtail lengths... everything was different on each one of those. I had to go to two different shops to get all four sensors for that Wrangler. Thanks for that fun time, Daimler-Chrysler!