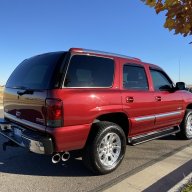 Joined

Sep 26, 2018
Posts

7,259
Reaction score

14,370
Location
So I'm finally getting ready to buy the rest of the parts I need to do this upgrade.
I apologize, as I know this topic has been well-covered, but I haven't seen an answer to my question regarding flow of factory FF injectors.
I have a 2003 (DBW) 5.3, Flex engine.
I have the intake manifold, and (hopefully the correct fuel rail (12621662).
Trying to decide if I should also do the injectors while I'm at it, and it would also be easier to install and check for clearance etc.. if I can install the injectors and rail into the manifold, while still being able to drive the vehicle.
I know the FF injectors have more flow than the non-flex injectors, but can anyone tell me what their volume / flow is rated at?
I'm looking at a few options on this Glenn's auto site 36 & 50 LB injectors. (Can either do new Delphi or injector clinic) also, assuming my factory fuel pump may need an upgrade if I did decide to go with larger injectors.
Also, there's a reference to "EV6" style injector plugs, not sure if that's what I have or not. I believe I already have them.
So far, I'm looking at this Throttle Body:
https://www.glennsautoperformance.c...-90mm-dbw-throttle-body-4-bolt-ported-by-chuy
X-link:
https://www.glennsautoperformance.c...ue-rush-performance-trp-x-link-adapter-module
Evap adapter kit:
https://www.glennsautoperformance.c...oard&utm_medium=product-links&utm_content=web
Corvette filter / regulator:
New C5 Corvette Fuel Filter/Regulator This filter/regulator assembly is commonly used when converting return style fuel systems for use with return-less applications. Popular for simplifying the fuel system for LS swaps or standalone EFI systems such as Holley, FiTech, or FAST designed to...
www.glennsautoperformance.com
Any thoughts / recommendations are greatly appreciated!