Yates Caretaker
Supporting Member
Joined

Jul 31, 2011
Posts

5,124
Reaction score

155
I DO NOT TAKE CREDIT FOR THIS POST SIMPLY REPOSTING FROM A MEMBER ON FSC NAMED JOHNNY RINGO I DO ASK THAT ADMIN STICKY THIS ASAP AS I THINK ITS A AWESOME SOURCE OF INFORMATION THIS GUY WORKED ******* THIS POST
I plan on putting a decent amount of information and pictures on the first couple pages of this thread so in you guys would hold off on posting until i get it setup i would appreciate it. This is my attempt to help new members or on the fence members out with their RCX vs. Cepek, which lift is best, why are these different type questions in regards to the Old Body Style trucks (88-98).
First statement that needs to be made is most people are quick to jump on a band wagon and tell people to get a certain lift, when these people have and no lift, have very little to no experience with lifts, and most the time never had a lift. The best thing you can do is ask questions about the parts list for the certain lift you want, what the parts do, ect. and make up your own mind based on your own research. It also helps to know certain members that you know for a fact have experience with certain lifts, and ask them questions. If you are having trouble finding these members I'm sure you cant PM any high post member or forum leader and they'll help you.
here is a rule of thumb tire fitment list -
http://www.fullsizechevy.com/forums/...ucks-suvs.html
here is gearing and tire size guide -
http://www.4wheelparts.com/aux_incl/gear_ratio.html
CEPEK
Alright time to jump into it. First lift is the Cepek. This lift is said by most to be the best and only lift to consider when buying an OBS lift. It can back up why so many people are its bandwagon with a great track record. The cepek is very affordable and damn near indestructible. For proof on how tough it is search for Cracker on GMFS, and i believe Geoff (or something like that) as well. The Cepek is a full 6.5" diff. drop. This means your track width wont be increased like a knuckle kit and with a full 6.5" drop you can easily crank your torsion bars to 8 or so inches (as many people have done) and still have decent CV angels. The Cepek is commonly paired with tires ranging from 35s to 37s, and many cepek owners have gone with a 6.5 + 3" body lift setup and ran 38s and 40s. The cepek lift is a little more difficult to find than other and is labeled as extreme suspensions lift due to a buy out I believe. The Cepek is an outstanding lift but it is not the only great lift for the OBS. The main reasons it is so popular is its proven strength, decent price and is taller than most any other 6" lift out there. The Cepek has several options like dual shock hoops stage 1 and 2 ect. The truth is the stage 1 is enough for 99% of people (some members wont like this but it's the truth). The hardest wheeled ifs trucks out there with the cepek are running the stage 1. The benefit from the stage 2 is the impact struts and unless your dukes of hazzarding around and ramping everything you don't need them. oh yes i almost forgot Cepek is pure beef!
link = short discussion on bds vs. cepek strength
http://www.fullsizechevy.com/forums/...-question.html
pics of cepek trucks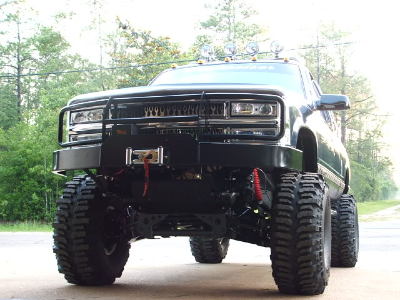 RCX
The RCX is another great lift offered for the OBS. The first gen RCX lift wasn't anything to get excited about, but Rough Country has come a long way recently and their lifts are some of the best money can buy. In the case of the OBS lift very little money. The 6" kit is right at 1000 dollars, and you can find deal all the time to get the kit and shipping for close to i not right on a grand. The RCX is another full drop lift so the track width is not widened. The RCX is a 5" diff. drop so it wont be as tall as some other lift that drop the full 6. in order to get the 6 inches you must crank for the last inch. One a side note if you are up in the air about getting the 6" or the 4" kit just get the 6. They basically the same price and are the same kit, the 6 just has an add-a-leaf for the rear. Also no one in the history of humanity has said I got the 4" lift and I'm glad i did because i would never want toge higher......everyone wants to go higher sooner or later. I have seen in person and in some thread where the rcx has been taken offroad but nothing "hardcore", but all in all it apears to be a very capable kit. The biggest thing that people love about the RCX kit is fairly easy install (for a full drop), THE PRICE, and rough countys 2nd to none customer service. The rcx is often paired with 35s or it seems more commonly paired with a body lift and some 37s or 38s. The first 2 lifts have more threads than anyother brands in regards to Cepek vs. rcx?
http://www.gmfullsize.com/forum/show...t=rcx+vs+cepek
http://www.gmfullsize.com/forum/show...t=rcx+vs+cepek
pics of rcx, these were pics i found quick or liked if you want more or some with out the bl just run a search they are EVERYWHERE.
---------- Post added at 12:26 AM ---------- Previous post was at 12:24 AM ----------
SUPERLIFT
The superlift often gets forgot about because everyone is so caught up in the rcx vs. the cepek.the truth is the superlift is a great lift that is right up there with the cepek and rcx in quality. As for the superlifts capability offroad well those who have seen anything bubba has done know that it can handle a fair amount , and for those who dont know bubba heres a link
http://www.fullsizechevy.com/forums/...rrrrrrrrg.html
the superlift is another full drop kit, if i remember correctly it is a full 6" drop meaning you will be just a tad lower than the cepek and with some crank can also acheive 8"s just with a bit steeper angles. i think the reason people dismiss the superlift quickly is due to the price, it is more expensive than the cepek and the rcx. The superlift is still a great lift and many times you can find limited time deals and used ones for great prices.
link about lift fitment for (88-93) to (93-98)
http://www.fullsizechevy.com/forums/...lift-93-a.html
superlift
and mine of course speaking as Donyukon is superlift
---------- Post added at 12:29 AM ---------- Previous post was at 12:26 AM ----------
FABTECH
The fabtech kit is a knuckle lift kit. The advantages to a knuckle lift is the ease of installation the major down fall is the widened track width (makes the front tires stick out very far), which to most is quite ugly but is a matter of opinion. For the most part members will discourage the purchase or install of the fabtech lift on an OBS. Fabtech is not a bad brand, there are many people running their nnbs and nbs lifts and are very happy. fabtech would personally be my last choice in lift, not meaning to offend anyone I'm just not a fan of the widened track width. Most if not all fabtech lifts for the OBS i have seen for sale have been pricey too, compared to the rcx and cepek.
pics of fabtech
---------- Post added at 12:31 AM ---------- Previous post was at 12:29 AM ----------
BDS SUSPENSION
Bds is another full drop in the mix. Personally BDS is one of my favorite brand of lift kits. I put BDS next to superlift in the fact the it is a tough kit but the price has put it out of most people reach. The BDS has a few weak points as were stated in the thread posted up in the cepek section. This doesnt mean the BDS is a weak kit it will take a pounding. The one thing BDS has over every other company and can justify some of the price is their warranty. BDS has a lifetime warranty on their lift kits. As long as you are the original owner of the kit and it is on the original truck it is a life time replacement plan. To quote a sells man from bds the best i can "you can get hammered and drive off a cliff dude and we'll replace the lift.......i mean you screwed on the truck part but you have new lift parts".
some bds trucks - firestrike and mgrotel, 2 of my favorite trucks on these forums
---------- Post added at 12:37 AM ---------- Previous post was at 12:31 AM ----------
OTHER
There are alot of 6" kits for the OBS trucks. These kits arent bad or anything they just other routes you can take in addition to the ones already listed.
TRAILMASTER - the trailmaster lift is actually pretty tough from what i have read and seen. the trailmaster allows for good tire clearence (36s and 37s) as long as you dont mind some trimming ofcourse.
trailmaster
TUFF COUNTRY i heard fairly neutral things about this company over the years.
tuffcountry
RCD - alot of people have the rcd lifts and most all i have heard has been positive. From what i have seen they are middle of the road price wise and have decent quality.
Last edited: