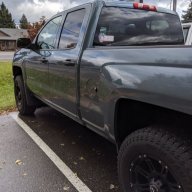 Supporting Vendor
Supporting Member
Joined

Oct 21, 2011
Posts

1,728
Reaction score

796
Location
The cold air intake product testing took place on Tuesday, May 15, 2012 at our Dyno facility in Temecula.
First, I'd like to say a big thank you to our customer Jason Thomas who loaned us his vehicle (2008 Silverado 5.3L Flex Fuel) for the testing!
The truck was completely stock with 130,000 miles, and all testing was conducted with the hood closed to simulate real-world driving conditions. Gains reported are to the wheels as opposed to the crank.
Again, please note that we did not have anything to gain by this intake testing, nor did we have any bias for or against any of the companies' products being tested. This was strictly an independent testing.
**Also please note that we sell all of the brands of intakes that were tested. For pricing, please email (

[email protected]

) or PM me.
That all being said, here are the results. If you have any questions, please don't hesitate to ask, but please let's try to keep all comments respectful and we definitely do not want to see any bashing of any of the tested products.
Results:
https://dl.dropbox.com/u/55742651/Intake%20Testing/Intake%20Testing%20Results%20-%20Intake%20Testing%20Results.pdf
Pictures:
AEM
*We are missing the dyno graph for the AEM, but Justin will get it next time he is up at the shop.
Airaid - Modular Intake Tube ONLY - Stock filter
CAI, Inc.

K&N
Volant
Last edited: