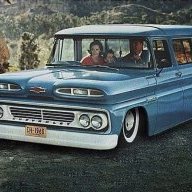 Joined

Jun 4, 2020
Posts

278
Reaction score

123
Location
I've been reading up on what is necessary to complete this swap, and wanted to make a checklist to be able to execute a smooth plan, but have a few questions, and hoping some of the experts on here could chime in...

The 6.2 swap is going into either a 2013 Suburban or 2013 Avalanche (whichever of the two I can score that I'm looking at for cheap since odo mileages are 220k and 232k).

Plan of action:

- Replace rear main seal and rear housing cover gasket (Any other seals I should tackle?)
- Drop the oil pan to install new o-ring on the oil pump pick-up tube
- New water pump and thermostat
- New valley pan gasket
- New oil pressure sensor
- New fuel pump and fuel pump assembly to match the slightly different 6.2 type pump
- New valve springs? (Are these necessary if the donor motor has 62k?)
- New 6L90 Torque Converter into the 6L80 trans.
- Replace exhaust manifold bolts, studs, nuts and gaskets, and resurface (or replace the manifolds).
- Perform compression and leak down tests.

I don't plan to install a hotter cam, so don't need new lifters. And since both engines have VVT, everything should bolt right up, and I just reflash ECU with the stock 6.2 tune, ya?

I had my heart set on a L9H, but is there any reason why an L94 would be better for this swap?

Wondering if I'm missing anything else?
Last edited: