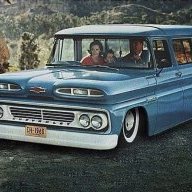 Joined

Jun 4, 2020
Posts

278
Reaction score

123
Location
So, my beloved Yukon has been stolen 3 times, and broken into easily over 50 times (I've learned to replace my own glass!)

However, the last time I recovered her after a theft, the check engine light was on... Its a catalytic converter code. And for a while, I could hear what sounded like something bouncing around in a tin can (inside one of the cats) at idle. I assumed that the honeycomb has broken down in the cat, and so that cat is shot. I don't now if its even related to the thefts, perhaps just coincidental timing, and the cat finally failed (at 159k miles).

My question is... Does anyone know where to score a used CA cat? I really would prefer to avoid paying $4100 for a pair of new ones,, and I realized that most people sell them to recyclers to cash out on the precious metals inside.