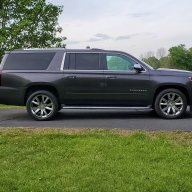 Joined

May 24, 2022
Posts

30
Reaction score

25
Location
Last week I took the family to the Outer Banks, NC. I was concerned about driving in the sand on the stocks wheels and tires, 285/45-22. I've read the horror stories and seen the clips of "Idiots of Corrola". I did not want to be added to that list.
The last vehicle I took Corrola was my 2001 Expedition with 16 inch wheels and All Terrain tires. No issues airing down to 18 psi and it drove great.
We headed to Corrola, filled to half a tank and dropped the tire pressure to 23 pounds on all four corners (didnt want to pop a bead). Put in in 4 low, manual 5 and hit the beach.
The sand is always softer at the entrance/exit. I got a little momentum and had no issues. The hard pack was not an issue. We wanted to explore and hoped to see some horses, so up the dunes into the "neighborhood " we went. No issues at all.
On the way back we drive in the soft sand. Again no issues.
I have magna-ride, auto-level and max-tow. The only suspension mod is a 2 inch front level kit.
I can tell you the truck had no issues anywhere, I was very impressed.
So if any of you are conserned about 22's on the beach, don't be worried at all.
We are heading to Hatteras for another week in June. Definately looking forward to more beach driving.