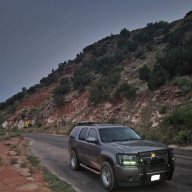 Joined

Jan 13, 2023
Posts

36
Reaction score

55
I have this oddball, and only occasional issue. A number of times over the past few years I have been called upon to head out into the countryside to rescue somebody who has run out of fuel, or gotten stuck, or some other vehicular catastrophe. And while its easy to carry a tow cable, jumpers, and tools... the one thing I have not solved satisfactorily is carrying extra fuel. I had this issue in my Suburban, and now I am switching to a 2011 Tahoe I am revisiting the idea to see if there is a better way.

My sorta solution in the past was that i fill up a gas can as i head out, and then simply put up with the smell until the mission is complete. But some of those stinky drives were an hour or more out into the country. Getting a better fuel can with a good seal helped out some, and i still have that good can. (its a small rotopax can)

I would love to find a way to carry the fuel can external, but while the old suburban had barn doors and I considered mounting the rotopax thingy on the back of one door.. the new Tahoe has a liftgate. and a powered liftgate at that. I dont know if the liftgate would be able to carry any weight at all in addition to itself. That may also look super ghetto.

I was lying on the driveway looking at the space beneath the tail, some of which is taken by the spare tire... wondering if I could build something for that space.

Has anyone else found a good solution to this problem?