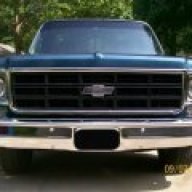 GM fan for life
Staff member
Administrator
Supporting Member
Joined

Jan 3, 2011
Posts

49,752
Reaction score

14,885
1991 GMC SLE R3500 Dually 454/4L80e
70,000 original miles (as of 10/18)

Overall goal of this truck is to make a cool driver that the whole family will enjoy. My kids are pretty stoked about this one! LOL This will serve as the family truck and back up vehicle for the wife whenever her Burb needs to be in the shop for some reason. I have a little commuter so I won't need to daily this.

Short Term Goals: Restore the exterior back with a fresh coat of paint, make some minor changes along the way, get it lower to the ground and see where it takes us

Long Term Goals: Engine upgrades (cam, heads, intake, exhaust,....), round eye front clip, wheels/tires, rear disc brake conversion

I still have a lot of research to do on the long term goals list because I really don't know what I want to use for any of that stuff other than the clip swap. This is going to be a long term project that hopefully the whole family will enjoy. So I'm not in any real hurry for any of it other than to have fun with it on the weekend in our spare time.

Here are some pics from when she arrived and as she sits now...