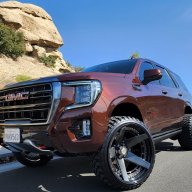 Joined

Jan 19, 2022
Posts

346
Reaction score

282
Location
I know it's sort of a loaded question, and there's a lot of variables to consider, but generally speaking if you order a new fully loaded Yukon, what kind of wait are we looking at? In my search for on-hand stock at dealers for the last few months, I inevitably came to the realization that I needed to place an order for my vehicle if I'm ever going to get one for myself. After speaking with a few dozen salespeople during the last few months, I've been getting mixed timelines on when GMC is processing these orders. I've heard anything from 16 weeks to an entire year.

Now I haven't custom ordered a Denali from GMC since 96', so I would imagine the process has changed quite a bit - especially given the state of the market and the supply chain issues everyone has been experiencing. Today I ordered my Yukon AT4 in all black with the AT4 Premium Plus package and several other options, but I'm uncertain if the length of my build time is all dependent on the amount of options I ordered, or there's a general waiting time for every vehicle, regardless of the number factory options added. Granted, if one or more of those optioned materials isn't available, there's an additional wait time until it arrives, or it's retrofitted on a later date... I get that.

So what's your experience on ordering to arrival? ...And how long did it take for you to get your vehicle?