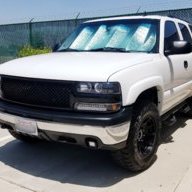 Joined

Mar 24, 2015
Posts

414
Reaction score

108
Location
Found my battery dead down to 4v after parking for a few days. I don't drive the truck a lot so it sits for a week or more a lot, but hasn't been an issue until recently.

First thing I did was change the battery. Now working with a fresh battery it happened again. I'm getting 1.1v current draw that comes and goes. I've done some fuse pulling and monitoring and got confused. I believe due to the intermittent nature it's more difficult.

More recently during my testing I found the door lock on the drivers side to stop working when pressing the unlock button. I never noticed this before, and after a few minutes it cleared and is working normally again. I've tried to reproduce this, but it's still working normally making me scratch my head.

I also noticed for a long time now that when I put the truck in park the door locks no longer automatically unlock. I now need to turn the key off and remove it before they will automatically unlock. Why would this change?

Yesterday I parked the truck and left it unlocked (I usually always lock it). A couple hours later I checked for battery draw and it was normal. I grabbed my FOB and locked the doors. After waiting for the systems to go to sleep I'm still seeing 1.1a draw. Then I press unlock on FOB and the draw will go back to normal.

I've read a lot of old threads and it seems to point to the drivers door latch/switch, BEC, PCM connectors, etc., but I'm not really sure what to do next. Again the test results can be inconsistent/intermittent and that throws me for a loop!

TIA for any help!