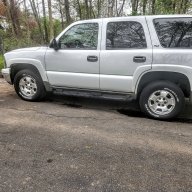 Joined

Nov 4, 2021
Posts

1,585
Reaction score

2,791
Location
When I lift one front wheel off the ground at a time with the engine off and transmission in Park and the wheel can still spin freely by hand (not locked up)... It is definitely in 2WD.

Am I right in thinking that there is no possible way it could be in 4WD, if I can spin the one tire that is off the ground?

Could be just hypochondria, but push button indicator lights respond and stay solid when hitting the 2H and 4H buttons back and forth.
Just feels and sounds "different" than normal.

I am thinking it just feels and sounds like it might be in 4WD, but I don't know how that could be I could be if I can spin the wheels and the transfer case makes a much different noise when it moves into 4H.

I can't jack all four off the ground safely with things running to see if all four wheels turn, so I am stuck with two jack stands and trying one wheel off the ground at a time.

Based on spinning front wheels, can I be sure I am only in 2WD mode?

I could be worrying myself into a frenzy over nothing...