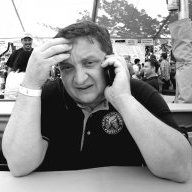 Joined

Jan 25, 2020
Posts

78
Reaction score

145
Location
I just purchased a 1995 Tahoe LS 4x4 2dr. I've attached the pictures from the craigslist add. I'll take more as I upgrade/repair the vehicle.
I've always like Blazers. I've owned two 71's in the past, but didn't have the opportunity to keep them and restore them. Life just got in the way. Now... they're well out of my price range or require WAY too much work. I've decided to look at the Tahoe 2drs since I've owned a couple of gen 2 Tahoes (2005 and 2001). I still own the 2001 and love it. I ultimately decided to go with the OBD 2dr. Finding one in my price range meant some sacrifice on quality. The interior is in very good shape, but the body is door-ding laded with some damage on the passenger side. I've decided to hold off on getting that repaired until body shops return to their senses. That might never happen, however.
I have decided to get all of the little things fixed. I'm used to this routine as I did the same things with my heavily used Gen 2s. I must say that I'm a bit disappointed in regards to resources for these vehicles. Some of it is design, some of it is scarcity and the rest I can only attribute to "too old to supply parts for".
I'll keep a list of things I find wrong in the OP and post my fixes in replies below.
Engine:
-
Idles at 1000 rpm - suspect vacuum leak
-
Water pump
-
Fan clutch
Body:
-
Door detent pins
-
Dent on passenger side
- Peeling clearcoat on hood and roof
- door dings galore
-
remove trim
-
remove pinstriping
- correct and replace 3rd brake light
Interior:
-
Ashtray/power plugs won't stay up
-
New radio
- Sirius XM
- Convert 12v outlets
- New speakers
-
Broken passenger door handle (inside)
- Dirty
-
Clean out blower duct
Other:
- Light housings are foggy
- Driveline u-joints
-
AC needs replaced
-
Brakes
You must be logged in to see this image or video!
You must be logged in to see this image or video!
Last edited: