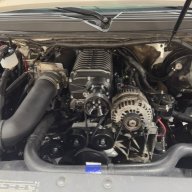 Joined

Aug 2, 2018
Posts

3,046
Reaction score

3,580
After considering the various recommendations from you knowledgeable folks here in the Forum, I am going to convert back to the original Z55 air suspension on my 07 Yukon XL Denali.

I will change out the entire front strut assemblies, as I do not know the condition of all their current sub-assemblies. I will change out only the air shocks on the rear, as it looks like the springs are new, and they are the correct part number for the Z55 suspension. I will also change out the compressor, as it is 14 years old, and I do not know its current condition.

Specific suggestions/recommendations on brands/part numbers for the front struts, and air shocks for the rear, and the compressor are welcome.

Also, if anyone has a link to an exploded view of the front and rear suspension and compressor assemblies, I would welcome receiving it, as I need to determine how much the original electrical and pneumatic components and connectors were hacked up, when the previous owner converted away from the Z55 suspension. As such, I believe that I will be searching for electrical connectors and air lines and pneumatic connectors, in order to restore the Z55 suspension system. I do believe that the original height sensors and rod assemblies are still in place on all 4 wheels.

Thanks in advance.