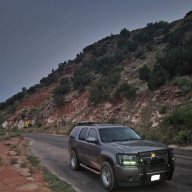 Joined

Jan 13, 2023
Posts

36
Reaction score

55
After many years of good service, my 2001 Suburban is ready to be retired. I have recently crossed 500,000 miles with it. It had an engine swap in 2018, and the transmission was rebuilt at the same time. It still runs pretty good, but the rest of the truck is breaking down around it. If I retire it now, i can still sell it for a bit and put that $ into my next vehicle.

So, I want to switch down to a Tahoe/Yukon. I am looking at the 2011-2012 models for a couple of reasons. One is price. Also, up till 2012 they still used the 8.6 differential, and i can put an Eaton TrueTrac in it same as my outgoing burban has. best diff ever!

I also want to be sure and get the 6l80E 6-speed auto. My general plan is to buy used, and immediately take it to the tranny shop and have a trans rebuild service done.

It is my understanding that the 2011-2012 models are going to be the most reliable ones that meet my desired spec:
- 5.3 engine
- 6 speed tranny
- can put a trutrac diff in it
- in the 10,000 dollars ballpark (if i buy from an individual. several are on facebook market in my area)
- black if possible.
- most i see have around 200,000 miles on them. thats just barely broke in for one of these.

so, my question is: am i missing something? a couple articles i read indicate that the 2010 years had some reliability issues with electrics and such.

Being the guy who did his own engine swap, did his own diff rebuild... im not afraid to do some wrenching. But i will avoid it if i can.

What about the 4WD models? is that 4WD system reliable? I dont particularly need 4WD, but if all other things are good should i avoid a 4WD system in the name of reliability?
i have never been in a situation where the limited slip diff wasnt enough to get me moving.

what about the used police vehicles? How badly are they generally treated? They seem to all be missing the center console, but that should be replaceable on ebay.

Thanks for whatever input you can give.