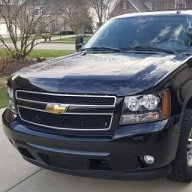 Joined

Aug 13, 2018
Posts

631
Reaction score

692
Location
Hey guys, ya'll around here know the chevy platform and I'm posing a "what would you do" type thread.

I have been on the lookout for a new 'work truck' type vehicle for me. This is a secondary vehicle for me, mostly because I've got a bit of a compulsion for having reduntant 'things.' Anyhow most of you know I had a 2007 Suburban 2500 for several years. I went 2500 because a buddy had talked me up in to getting a 2500 platform truck when I had my camper. Did I need it? Eh, probably not. It did tow my camper more confidently than my sequoia 4.7 did but I didn't keep the camper long at all. I've been keeping it around as a work truck that can store my tools and ladder and everything. I also pull my 14" enclosed trailer with my goldwing and other bikes.

I sold the suburban a bit ago, and am looking to get its replacement. I've been so wishy washy on this decision. I started looking for 2500HD truck. They can be found in my budget, usually off commercial work. Looking for 2018+, Less than 75k miles, around 30k. Each of those is fluid. I spent yesterday driving 3 states, and hitting 4 dealers. All not to mention that I've talked with several various dealers online and in other states. I'm looking, neigh, demanding a rust free vehicle. So, I'm willing to go to AZ, NM, NV, etc to get something clean.

So that brings us to this thread. Yesterday I was down in KY and checked out a 2020 Silverado 1500. It was a rental for 2 years, and has about 48k miles. By the book, I feel like this is a better fit. It's newer, less miles, I can get an extended warranty. There are two available, both black, one is 66k miles, the other that I chose was 48k miles. The 48k mile unit has a rattling underneath, and a P0420 and P0430 cat codes. It has a date with the chevy dealer this coming week, likely for new cats. Either way it will come back solid, and even has the remaining 5 year, 60k power train warranty. It would likely meet my towing needs just fine. 9000# trailer capcity, and 1800# tongue weight. That said, those little 2pc leaf springs look like wussy tbh. I put a $500 deposit on the 48k mile 1500 unit.

However, I keep coming back to the 2500HDs. I know how to fix them, sorta. I can do joints, shocks, brakes, maintenance, and the like. I know the 6.0 will likely never die. Hell, in the Suburban, I felt like I brought it back to life and got rid of the lifter tick at 130k miles, and she was fine at 202k. There's a dealer out in ABQ that gets trucks from texas, likely the oil fields. He has 8 or 10 in right now, but hand picked 3 for me. The one I'm keen on is a 2018, with 66k miles. I'd have to fly and ride. Or pay to have it hauled home, but then I wouldnt have the opportunity to see it before I paid for it. Has a brush guard, and a tool box, which is nice toss in stuff. I might also ask if they would let me keep one of the laptop mounts that they have pulled from their trucks. I have a ram mount unit that I will install, but if I can at least get the base plate that would save me 150-200 bucks.

Anyhow, what would you do in this situation. Would you go with the newer, "cooler" 1500....or stick with ole reliable? The 2500 is a little over budget, and I can't really get eyes on it until I go to buy it. The deposit is refundable...but even if it wasn't I would sacrifice it to get a vehicle that best meets my needs.