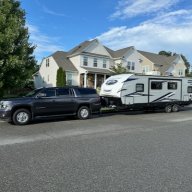 Joined

Feb 16, 2018
Posts

4,609
Reaction score

10,557
Location
Assuming OP's Tahoe has the factory trans cooler, a larger one is unnecessary IMHO. 190-200° F is normal operating range for the 6L transmissions. Dex6 has substantially better high-temperature capabilities than Dex3. And low temps can be just as bad, or even worse, than high temps. If you're not getting above ~150°, you're not boiling off condensation that may have collected in the transmission. And we all (should) know that water in the fluid is bad.

I just have the small factory cooler in my Suburban. 240k miles, still original, still operates perfectly. And I beat the crap out if it. If I'm just driving, I'm cruising down the highway and high speeds (90-100+), or I'm towing either my 4,000-lb cargo trailer or 8600-lb travel trailer.

My personal record is 243°, usually achieved when I'm going over the Continental Divide with the travel trailer. I simply change the trans fluid more frequently. Sometimes with an interval as low as 30k miles. But usually I do it every 50k. Full flush - at the dealership. 16 quarts.

This was on I-70 eastbound towards the Eisenhower Tunnel, 7% grades, pulling the behemoth right at 16,000 lbs gross vehicle weight...

Tiny cooler:

View attachment 397348
^^^This.^^^
I have researched this one to death for my own towing rig (2012 Yukon XL Denali). I have a trucool 40K on my '07 and I wish I hadn't done it. I installed it before I read GM's guidance on transmission temperatures. GM likes to see a
minimum
temperature of 150ºF in operation. Below that there can be problems with moisture accumulating in the fluid for various reasons. With the trucool I can't get my transmission temps above 125-130ºF for a third of the year (winter) and the rest of the year it rarely makes it to 150ºF in normal driving. Towing our 7500 lb camper I might see 175ºF for short times. These numbers are about 50ºF lower than with the factory cooler, which is too much cooling.
The second problem with the trucool is that it blocks too much of the radiator leading to engine cooling problems. My engine coolant in the '07 runs about 15-20ºF hotter when towing and has even gotten hot enough to trigger a warning message in the DIC for the engine coolant temp.
On my 2012, I took a different approach. I installed a Derale 13960 plate cooler with a thermostatically controlled fan behind my lower grille so it wouldn't obstruct the radiator. Now I see normal transmission operating temps of 175ºF year round and 190ºF when towing on level ground. In heavy traffic or climbing mountain passes I might see a peak of 225ºF but that fan cools it off really quickly back to normal. All of this is well within the normal operating parameters of the 6L80.
Long story short, if the OP's truck has the factory external cooler, I wouldn't change a thing. If it doesn't, I'd install either the factory cooler or the Derale. GM had this one engineered right in the OEM design, in my opinion.