I was under the burb this evening replacing the sway bar bushings and noticed that my transmission seal around the yoke is leaking. I was like, wtf - this was bone dry a few weeks ago. Started thinking - just made two road trips to the west coast of Fl and Orl with no issues.
Brief history - I had the drive shaft replaced on 5/16/23 and it was dry - I assume they put in a new seal (I will verify tomorrow) - invoice indicates "New Fab, Tubing, U-joint, Weld Yoke".
Just before (like two days before) the trip to the west coast on 7/20/23 I had the EVAP hoses replaced, they did it really fast less than two hours. Guy mentioned to me that they dropped the drive shaft to get the tank down - I was kinda like wth since it was a brand new shaft, but figured they know what they were doing, no biggie.
Now I see this leak and I wanna blame it on the guys who dropped that tank. The drive shaft is scuffed up too, like a 6-inch line of scratches in the pristine paint.
what would you do here? Go to the shop that dropped the tank or call the drive shaft shop and tell them its leaking (assuming they put a new seal in), or just bite the bullet and have it replaced.
Before the new drive shaft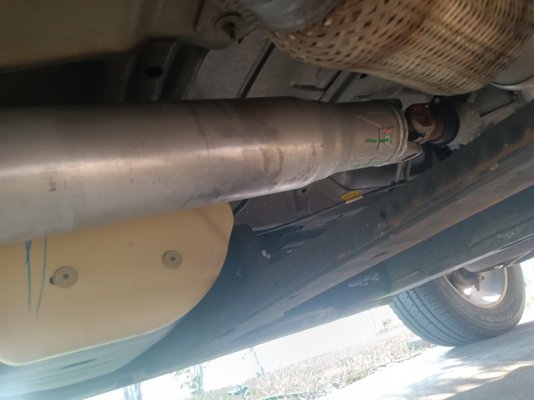 Today