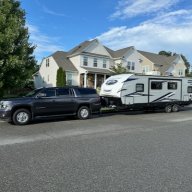 Joined

Feb 16, 2018
Posts

3,981
Reaction score

8,869
Location
If I'm I'm opening it up at all, I'm highly considering a cam and doing lifters at the same time. Curious though (this is something I haven't researched much at all), you went with a non-VVT cam verses doing a larger VVT cam from Gwatney like you mentioned. Thoughts/reasons? I've been eyeballing the Gwatney stage 1 low lift vvt cam if I open it up that far.
I went with the non-VVT cam for a handful of reasons:
1/ No power loss over stock down low. I did hours (days?) worth of research to determine how much power I might lose (over the factory cam) on the low end with a 3-bolt cam, and determined that it would be essentially zero loss and more likely a little gain over stock with a 3-bolt truck cam designed for the 6.2. Of course the 3-bolt cam would still provide great gains in the towing RPM ranges, which is what I cared about. If I kept VVT with a new cam, I would gain some on the low end, but I decided that the other factors below outweighed that for me. Subjectively and according the butt dyno, I'm super happy with the power on this cam through the rev range. I have an '07 XL Denali with the L92 and stock VVT cam to compare it with regularly, and the '12 with the 3-bolt cam makes me smile every time I drive it. Towing power is way up. I can maintain 55-60 in 3rd on grades that used to require a drop into 2nd and 45 mph with the stock cam.
2/ Reliability and Durability. My top priority after towing power was reliability/durability. Dropping the VVT eliminated a potential source of reliability issues, and it enabled me to go with the wedge style timing chain tensioner, which eliminated a source of durability issues. Both the VVT and the spring-style tensioner are generally reliable and long-lasting, but problems still occur. The plastic guides on the spring tensioner have been known to fail and fall into the oil pan.
3/ Less hassle in the install and setup. Larger VVT cams require a limiter to prevent valve interference. And torquing the single bolt requires removing the starter to install a flywheel holder. I didn't feel like hassling with either, but with the engine out, it would definitely be easier.
Side note: BTR sells a set of beehive springs that will allow up to .560 lift, so I chose the 'high lift' version of the Cam Motion stage 2 cam (@.553) in order to skip the dual spring requirement and associated top-hat style valve stem seals, yet still get the most power I could under the limit. I'd previously had a set of dual springs with top hats on for a while - all properly installed, and I had 2 of the seals lift off the posts and trigger oil burning. It was a hassle that I didn't want to deal with again.
Last edited: