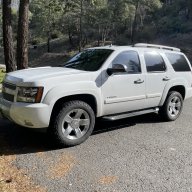 Joined

Aug 9, 2018
Posts

1,096
Reaction score

1,159
2008 5.3 4l60e 3.73 gears 180,000 miles lifted about 3 inches with 32 inch Ko2 tires
Hello gentlemen,
When I purchased the Blackbear tune for my motor and trans I was very unsatisfied with the transmission performance and I went back and forth with Justin and loaded a few different tunes he sent me but ultimately I was never happy with the trans but I didn't want to put it on blackbear, they said the trans is probably worn. The trans is old but still works great so I didn't want to push the issue.
Problems I had with the blackbear trans tune: harsh 1-2 shift until warmed up, very short 2-3 (happened very soon and didn't feel like it is in sync with engine speed), and 3-2 downshift flare (RPMs will raise high and then the gear engages and RPM drop back down as it goes into gear. almost like dumping the clutch, feels very concerning)
I will say that these problems probably existed before the trans tune but were amplified by the tune bringing them to my attention or were masked by factory trans tuning.
To solve the short 2nd gear problem I asked Justin to extend the duration of the 2nd gear but this basically got rid of 4th gear for me, my truck would go from 1st, 2nd, to 3rd to overdrive and only hit 4th gear under certain situations, I only ran it like this shortly before deciding this isn't a good solution and reverted back to stock trans tune in 2022.
This spring 2023 I reinstalled the first trans tune from Blackbear and have found parts of it enjoyable but the passing aspect when going uphill or passing on the freeway when I need that 3-2 downshift really is a problem.
This morning I came across this post that outlines someone else journey in solving this same problem:
https://ls1tech.com/forums/automati...2-downshift-flare-any-4l60e-experts-here.html
Here is an album the poster made that includes the original problem, some servo testing and then another video explaining their fix and showing the results:
https://photos.google.com/share/AF1...?key=MTh2MjR3bmQzY3o0RHlYRS1YSGUyallEQnAtZVB3
All this being said, it seems that the fix is to extend the length of the servo pin by welding a bead to the tip. This helps tighten the 2-4 band in turn eliminating the 3-2 dpwnshift flare.
Now my question is what do I do? I don't weld, is there a longer aftermarket servo pin I should use? Would a corvette server work? Do I get an extended servo pin AND a corvette servo? Can I run a corvette servo and trans tune at the same time?
- Signed by a man looking to milk every mile out of this transmission while drinking a lot of coffee this morning.
Last edited: