I saw a thread from 4-5 years ago asking about this and instead of necro'ing a thread that contained errors I am creating a new thread.
The 2010-2014
pull
handles on the front panels are crap and fall apart. The 07-09s are
much
stronger and don't fail nearly as often. This is not to be confused with the interior 'chrome' plastic door handles that open the door.
You can put any 07-09 tahoe/yukon/escalade/suburban front panel into your 2010-2014 tahoe/yukon/escalade. It does not matter which trim level you have*, the swap will work for most of them. They are direct bolt ons -
all
bolt holes line up, the window switch plugs are the same. There are two things you need to pay attention to.
1. There is one part you need to swap.
You must have an 07-09 switch
bezel
for your 07-09 panel to fit onto your 10-14. Just take your old switch bezel off, 3 torx screws and put an 07-09 bezel on.
*2. If you have heated or cooled seats, make sure the panel you are purchasing has a hole size of about 8.75 inches across the greater lengths. I ran across a panel somewhere that had a much smaller cutout for the chrome handle and there would not be enough space for electrical buttons.
The other thing is, the panel styles changed a bit. The 10-14s have a larger round thing under the arm rest. TBH, I prefer the 07-09 style. That and they don't fall apart like the 10-14s.
The rear panels swap from 07-14 with no bezel change required.
Rear suburban panels will NOT swap into tahoe/yukon/escalde vehicles!!
The silver bezel is the 10-14 style. The wood is the 07-09 style. I learned this through first hand experience having to replace a crap 2012 panel for a Tahoe.
here are how the panel styles changed. That big bulbous thing is just more stuff that can break on the backside of the panel. Plus it reduces the amount of leg room you have under the arm rest. If you have big balls like me it's nice having that extra space to open your legs. All joking aside you won't even notice the difference if you only swap one side that failed and I doubt anyone else will notice unless you point it out.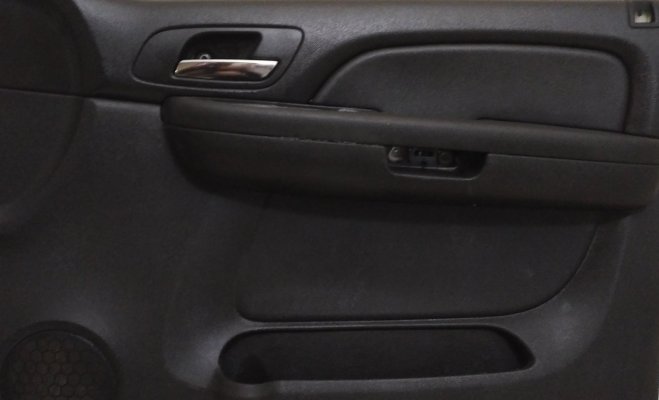 1.
Last edited: