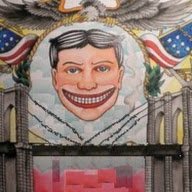 Joined

Aug 28, 2023
Posts

4
Reaction score

3
So I am trying to help out a Disabled Nam Vet and he needs help he is a really great guy someone I used to tend bar with 30 years ago. He knows nothing about cars and just purchased a 2006 Yukon after saving up his disability check after paying bills for a year. He drove the truck up to my house he lives about 45minutes from me and he was saying he had no AC which I told him I would fix for him no problemo. Like I said Jimmy is a great guy and doesn't understand a thing about cars or computers or anything in this realm. I asked him what was going on with the AC and he said "it just blows hot I have 2 cans of refrigerant I put in and it still blows hot plus I cant shut off the fan in the back or turn on the fan in the front. So I asked him to go grab an alcohol free beer and have a seat I really didn't want him helping as I know he will break something or hurt himself. I have been trying to get him to stop slamming doors shut and go easy on things for 2 decades but he is very ham handed he broke the door handle on my Denali twice and already broke the hood open latch on his new truck the first day he had it so enough of the background story now for the repair part.

I start the Yukon find the blower switch for the back show him where it is and how it works so problem one solved AC is blowing hot so I check the AC and the clutch is not engaging at all so I figure low refrigerant. I get the can he has been filling it with for the last 2 days and show him what the safety ring is on the can then remove it and fill the empty AC system to its proper level the AC clutch is now engaging and its blowing cold. I figure we are done no big . The next day he calls and tells ne its not working the fan in front wont turn on anymore. I get the truck and sure as sh%t it is no longer working I put a meter on it test the blower motor check the fuses and order a new resistor. I get the new resistor put it in turn on the ignition the blower now works fine but the head unit is no longer lit and now we have ABS , TC, and engine lit on the dashboard. I turn it on and off sometimes the head unit comes on sometimes it does not Im pulling fuses and checking wires restart the truck and its fine everything works then the truck just shuts off no engine running, headlights are on and bright so I restart the truck and its running fine but now the AC is no longer blowing cold. I figure I need to recalibrate the AC\Heater actuators so I do the fuse pull wait one minute put it back bla bla bla so now everything is working but the head unit is not lit. I told him to take the truck home give me some time to order a flee bay head unit and do some reading on this truck.

By now Im thinking GROUND STRAPS so I tell him to bring in up to my house the next day and he tells me he has no transmission it died on the side of the road and he had to pay 200 bucks to get it towed. I explain to him how much AAA costs and I cant trouble shoot a tranny problem from my armchair we decide I will use my AAA to tow it to my house I was thinking maybe a valve body who knows so before he has it towed here is what it does. It wont go into park the shifter is in park but the truck still rolls. If he try's to put it into drive it grinds very loud, neutral is fine, no reverse.
SO I have him start the truck then put it in neutral and push the 2wd button . The transfer case shifts into 2wd and now all is fine the truck drives the AC works the head unit is now lit . In neutral it flashes SERVICE STABILITY CHANGE OIL SERVICE AIRBAGS on the dash ABS is lit engine light is lit and TC light is on.
WHAT do I do next I figure check, clean, replace all ground straps maybe pull the fuse box clean and spray with dielectric spray. OK so ANY ideas on things IM not thinking about or doing wrong please let me know so I can get this guy back on the road ...

I will check codes when he brings the truck back up here. I did check them the first time but there were no codes on my cheap 25 dollar OBD2 reader. All these problems and no codes??? gotta be ground straps???/???
Last edited: