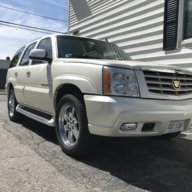 Joined

Aug 25, 2016
Posts

244
Reaction score

263
Location
2006 Cadillac Escalade AWD
Color: Diamond White Pearl
Model: Escalade
Edition: Gold Package
Engine: LQ9 345hp 6.0L V8
Drivetrain: 3.73 gearing w/ fulltime AWD (Borg Warner)
Build thread
HERE
(Many pictures here but not up to date on all work done to the beast!)
$8500 (this includes a $500 TYF member discount) (KBB Value is $9k to $11k and NADA is $10.5k so I think I have this reasonably priced)
NH Inspected through JULY 2019
This truck is a true cream puff for this vintage (trust me I know since my search for one yielded tons of high mileage, beat to crap, rusted out, neglected examples!) with all original paint, body panels and zero accidents (verified both via clean Carfax and clean AutoCheck!). And for anyone concerned about it being a NE area vehicle, let me assure you it has zero rust! The frame has the typical GM surface rust but that's it, the rockers, door bottom edges and both bumpers are rust free! This truck has been garage kept and babied it's whole life and it shows!
The time, sadly, has come to move on from it because my wife has developed severe driving anxiety (long story) and it's just too big for her so we are looking to downsize to a new Cadillac XT4. I'd prefer this beautiful truck go to a good home of a TYF member whom will appreciate it and continue to build it rather than have it end up at auction and on some gas station dealer lot.
Since purchasing this truck in January 2017 I have invested countless hours and money going through it and addressing everything it needed. I also have a binder full of receipts for all services performed and all money spent on the truck in general!:
Dorman stainless steel brake hardline kit installed
Power Slot slotted brake rotors w/ e-coated hub mounts (no rusting to worry about)
Powerstop reman'd OEM calipers w/ red powder coating
Powerstop stainless braided soft brake line kit
Powerstop Evolution carbon ceramic brake pads
Timken OEM spec front hubs
OEM rear axle tube seals
8.25" IFS front diff professionally rebuilt w/ Yukon Gear rebuild kit
OEM Oil Pressure sending switch
OEM Fuel cap
All fluids - brake system, coolant, diffs (Mobil1 75W-90 synth), trans (OEM Dexron VI), power steering (Valvoline Syn Power) and transfer case (OEM Dexron VI)
T/A Performance Girdle w/ ARP bearing cap stud kit
Used OEM 20" Chrome wheel package w/ new OEM Cadillac centercaps
Bridgestone Dueler H/L Alenza Plus (80k miles warranty) Tires
OEM TPMS sensors, lugs, lug covers and wheel locks
Interstate battery
OEM battery tray
Full LED exterior light conversion w/ JDM Astar lighting:
- G2 9005 Hi-Beams
- 3030 Bright White DRLs
- 3030 Switchback turn signals
- 50W 880 Bright White Fogs
- 3030 Bright White Reverse Lights
- Novita LM487 LED Flasher Relay (prevents hyper flash of turn signals)
Anzo LED tail lights
Depo fog lights
Rebuilt OEM digital climate control module w/ blue LED upgrade
Rebuilt OEM driver's door heated seat control w/ blue LED upgrade
OEM column shifter w/ leather wrapped handle
Interior LED lighting upgrades (white in door lowers and overhead, blue everywhere else)
OEM steering wheel control button set
Richmond Auto Leather driver's seat bottom cover, foam cushion
OEM driver's seat heating element
Richmond Auto Leather center arm rest cover
Platinum Escalade gauge cluster professionally rebuilt by Digital Dash Solutions (w/ new stepper motors, red OEM needles and white LEDs)
Fleece Performance 4/6-Hi mod circuit board
NGK TR55IX Iridium spark plugs
Taylor 10.4mm Pro-Race spark plug wire set
Spark plug wire heat shield socks (for future header install protection)
Kenwood Excelon DNX693S Nav radio w/ PAC RP5-GM11 OEM interface (retains full GM canbus control, Onstar, steering wheel controls, etc)
Kenwood front & rear cameras
WIX Trans Filter kit (flushed with GM Dexron VI fluid)
WIX HD air filter
Oil changes every 5k w/ Mobil1 5W-30 High Mileage full synth and WIX 51522XP filters
Blackstone Labs oil analysis done at every oil change (reports included in binder)
Alignments and tire balancing/rotation performed after every oil change
Heated front seats
Heated 2nd row captain's chairs
Removeable 3rd row (looks like it was never used)
Dual climate control for front and back
Rear DVD entertainment system (Audiovox aftermarket in-head rest units)
Husky rear cargo area liner (has cutouts to install with 3rd row seats installed)
I have tons of extras for the truck such as: Complete new OEM chrome emblems/badges set (bought these to replace the weathered gold emblems that I didn't like anyway but never got around to installing), Richmond Auto Leather passenger seat bottom cover, various OEM spec interior touch paints, various fluids, etc.
I also have some upgrade parts that I'm planning to list for sale separately but may consider negotiating into the sale of the truck:
OEM GMPP Cold Air Intake kit (brand new, never installed!!) ($420 retail)
TruCool 40K transcooler setup w/ custom mounting bracket kit (from PT.net member)
Blackbear AutoCal w/ plastic case upgrade- this comes with an UNUSED VIN license! ($650 retail)
Now for the bad - keep in mind this truck is going on 13 years old!
- Front door speakers cut out intermittently (assume a worn out door harness connection, never addressed because I'd planned to upgrade the speakers eventually and run all new wiring)
- One small door ding on the passenger side rear door (was there when I bought it, easy PDR fix that I just never got around to having addressed)
- Small spot of chipping paint on passenger side of front bumper (I was eventually going to just have the front bumper repainted so I never addressed this)
- Front driver ride height sensor is broken (I am including the new OEM replacement part!)
- "Service Air Ride" alert came on this morning (of course) because I believe the compressor finally crapped out. I knew the rear air bags were leaking but the actual shock valving at all four corners was perfectly fine so chose not to replace the shocks right away. My selling price for the truck reflects this issue as I believe it's worth $10k but knocked it down $1000 because of the "Service Air Ride" and another $500 TYF discount
Let me know if you have questions! Clean and clear NH title in hand for a quick sale! Also spread the word if you have friends in the market for a truck like this whom aren't on TYF (I'll gladly kick back a "finder's fee" to any member who helps lead to the sale)! Can text me directly at 7seven4 - 2six1 - 5zero74
Last edited: