Joined

Dec 4, 2012
Posts

20
Reaction score

6
hey guys
thought i would share my tahoe build with ya.
sooo here goes
it all started with me wanting to break away from the hard core wheeling thing and start doing more of a expidition style wheeling .
So with a heavy heart i parted out my beloved ***** j and started from scratch all over again
with 10 grand in hand from the jeep part out i bought this 1995 2 door tahoe
she was a little rough but i only paied 1000 bucks for her.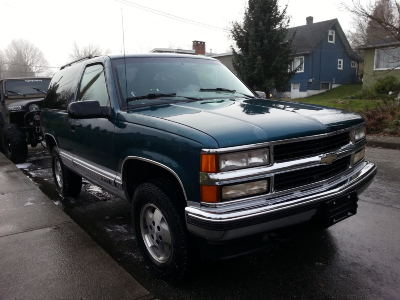 started with the interior . getting rid of the nasty
did the hippo liner thang
then went to work on the audio
did 4 6'' ppi speakers with remote tweets , upgraded the roof 4x10s with some pioneer 6x9s and couple of 12s for the bass. also added 3 amps behind the panels for a nice hidden and clean install
even said wtf and swapped out the old cluster and int lights for leds
---------- Post added at 02:38 AM ---------- Previous post was at 02:16 AM ----------
now it part collection time for the cool shit
38'' tsl
sky mfg sas kit
some bmw leather
drivers high pinion king pin dana 60 for the front
hummer h2 rear end with nice disks and a e locker
rear shackle flip kit
1ton high steer set up
and now time for the fun stuff....buildy buildy
ready to start cutting
plasma good
the junk pile grows
not a big fan of grinding in wheel wells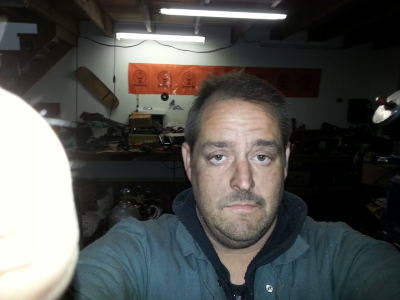 the front hanger that comes with the sky kit was pretty sissy looking so we beefed it up some
then went to work installing the h2 diff in the rear
ok lets break for *******
ok back on track....next post
---------- Post added at 02:57 AM ---------- Previous post was at 02:38 AM ----------
little bit of test fit
and now for the sas
had to modify the 60 just a little bit
did a cut/turn and sleeve to move the spring perch in a little bit so i could have full range of steering
just like it never happened
installed and guset of the front hanger
shes getting there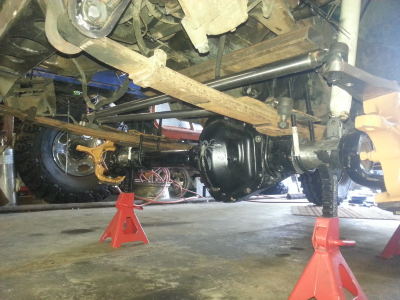 shock hoops and high steer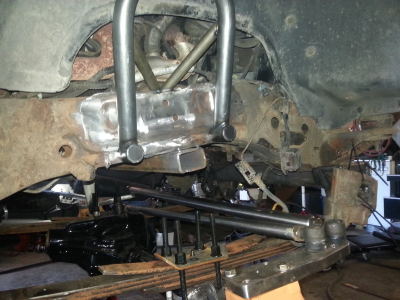 abs delete
and way to big....the idea is low as possible for better cog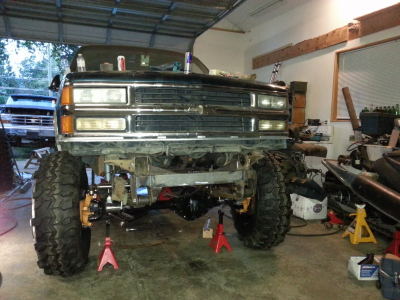 sooooo after messing around with the leaf packs front and rear and by moving the front axle forward 4'' and the rear back 2'' we were able to get her down a little lower and most important level too
total lift is 5'' and she rides nice and soft...
stay tuned....over the next month im doing
on board air
arb locker in front
tube skirt/lower exo that will join front winch bumper and possible rear tire carrier
let me know what ya think....always up for advice and ideas
cheers eh