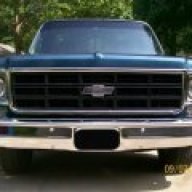 GM fan for life
Staff member
Administrator
Supporting Member
Joined

Jan 3, 2011
Posts

49,597
Reaction score

14,293
Picked her up today. Drive her five hours home from Waterloo, Iowa to south of KC. Overall did well. Discovered a leaky radiator up in Des Moines. We did the right thing and closed the hood, pretended we didn't see that and bombed our way home
she did good! I now have a aluminum radiator, hose and tstat ordered to fix the issue.
Here are the details I know.
1990 Suburban R1500 350/700r4
112k on the clock
I'm the fourth owner
Rust free other than SUPER minor spots along the edge of the rockers and the driver front inner fender well has a hole in it and some scale on the frame from midwest winters. Nothing major.
Wheels are 20x8.5 Riddler on Falken rubber (245/45 front, 275/40 rear)
For those that aren't familiar with these this rig has rear heat and no roof rack from the factory. Both are very unusual for the time which adds to the cool factor a little bit more.
Plans (for the moment)
Fix/replace speedometer
Fresh set of headlights, parking lamps and tails
POR15 underside
Scoping out some winter wheels/tires
Tint
Replace body mounts
Replace helper bags