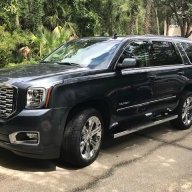 Joined

Aug 26, 2019
Posts

38
Reaction score

31
Location
Just had a rainy weekend with the family in Asheville, NC. We rented a cabin in the mountains and drove a lot in low-traction conditions. We live in Florida where it's mostly flat, so haven't really seen many hills or gravel roads with the Yukon. For no really good reason, we've pretty much kept it in 4wd Auto mode since we bought it. Our other vehicles are all AWD, so just assumed this was a safe driving mode. Anyway, while driving around Asheville in the rain, we were continually getting slipping or stuttering which I though felt like a transmission issue. By the end of the weekend, I was convinced we had a transmission problem. I brough it to our dealer yesterday to have them check it out. First thing the service writer did was notice it was in 4wd auto and told me not to drive it like that. We agreed they would run the diagnostics and if there was no transmission issue, go ahead and perform the 90k maintenance on the transmission and 4wd system as it just happened to roll over 90k miles on the trip.

In the end, they did not find any problems and did the transmission and 4wd system service (I would have done these myself, but one less thing I need to do). They are saying I experienced normal functioning in 4wd auto mode and in the future just run 2wd high or 4wd.

Does this seem accurate? Is this how the 4wd auto mode should feel in low-traction situations when it is "toggling" between 2wd and 4wd? While I'm happy there isn't a transmission issue, now I'm concerned the 4wd auto mode might not be properly functioning.

A couple caveats: I have warranty coverage to 100k miles, so if there is an issue, I want to get it sorted in the next 6 months. I definitely understand the difference between AWD and 4WD. My other vehicles are/have been Audi Quattro, Acura SH-AWD, or Hondas.