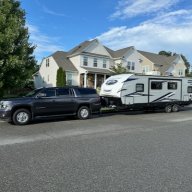 Joined

Feb 16, 2018
Posts

4,609
Reaction score

10,557
Location
It's either an injector seal or the intake manifold. I'm going to pull it and seat the injectors on the manifold properly off the car and just replace the gasket while I'm at it. How common is it to replace the upper intake gasket?
Not common but it's relatively easy.
The thing that seems to trip people up with getting the manifold off is forgetting to release the fuel pressure in the fuel rail (key off, obviously) before trying to get the fuel rail separated from the fuel line. Removing the manifold is a 20 minute job once you've done it a few times. The gaskets themselves clip onto the bottom of the manifold and should be reusable, so unless the manifold were removed to do the injectors, I would suspect a torn or improperly seated injector o-ring.