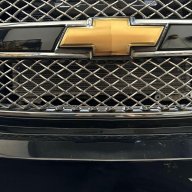 Joined

Aug 11, 2021
Posts

99
Reaction score

201
Location
New to the forum, thought it might be cool to keep track of the new ride here over the coming years.
I live in The Netherlands and I have just bought myself an 07 Yukon Denali XL. Im not new to American cars, having had an 08 Acadia before this, and one of my other cars is a '16 Mustang GT (heavily modified)....
These are super rare trucks here in Europe. They were never sold or imported officially from new - so any that you see around have been personally imported and often left behind (sold!) by Military personnel when they return to the US from Euro bases.
Thats the story of my car. Bought new in NM in 2007, and then owned for 9+yrs by a serviceman in Colorado. Brought over to Germany and then sold to its (German) local owner in 2016. He took the car to the Spanish Island of Ibiza and used it there as a vacation car at his villa until now. The car has 175k miles on it, but its only covered about 10k miles the last 5 years.
The car was returned to Berlin Germany in March this year where it was put up for sale and effectively abandoned, until I came along and bought it two weeks ago.
I think in general its a pretty solid basis, but the previous owner didnt care much about keeping it clean, and sitting 6 months in his yard didnt help it. So im doing some recommissioning and plan on making it my own.
I bought the car un-seen and drove it 500 miles home from Berlin. 1/2 way back it lost its **** and threw a P011 code at me. Once I eventually got it restarted it hasnt done it again... so im hoping it was as easy as the VVT actuator being sludged with old oil... time will tell.
The interior of the car was in a really bad way, so I had that professionally cleaned last week, and tomorrow im taking it on vacation for a week. Once im back its booked in at my local shop for a full service, incl:
- Oil + filter
- Spark plugs + cables
- Air filter
- Accessory belts
- Gearbox fluid + filter
- Transfer case fluid
Faults fixed so far:
- AC now blowing cold
- Cruise control repaired (brake switch, as usual!)
- Gas struts on the liftgate glass
Known faults with the car:
- Cyclic squeaking noise when turning right only
- Electric pedals dont work
- Electric seats only adjust when nobody in the chair
So far in the truck I have:
€13,750 purchase price
€650 import and licensing fee
€380 cleaning costs
€600 new parts
Once im happy the car is reliable, im planning to cam it, new intake, cat back (or at least some exhaust work) and tune it. 500hp would be very nice and usable