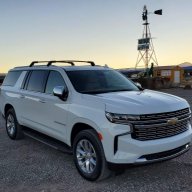 Joined

Jan 19, 2022
Posts

125
Reaction score

72
Trying to figure out whether there's a way for the vehicle navigation to function without a data package. From what I've learned, downloading offline maps is only possible with a data plan and even then, the offline maps often get deleted within a couple days.

Has anyone has been successful at downloading offline maps for the vehicle navigation and not having them be deleted when I don't have a data plan? Can the maps be downloaded with a temporary data plan and then auto updates turned off to prevent the system from deleting them?

I came from a 2022 Honda Odyssey that had a garmin-powered navigation that was very well done for when I was too lazy/unable to load up Android Auto and use Google maps.

I've searched around these forums and it seems the consensus is you need a data plan to use the vehicle navigation (google-powered). I'm hoping someone else has discovered a way around this crappy weakness. Otherwise will have to hope Google unlocks this in the future.