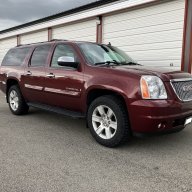 Joined

Jul 26, 2022
Posts

50
Reaction score

89
Location
Hi there. New member from Green Bay. I have lived in WI most of my life. Grew up in Oconomowoc, moved out of state for a short time but back now likely for good.

I am a big motor guy, like anything that burns gas (mostly boats, cars and sleds). I'm also an above average "shade tree mechanic" as I can do quite a bit on my own. I am 54 and have owned at least 35 cars and trucks so far. I'm on the next one, a 2008 Yukon XL SLT. Nice rig, didn't pay too much for it but it's got issues. I figure this is the "breaking in period" I usually go through buying a new vehicle as I fix, swear a lot and spend money on a new (used) car purchase so I can get it up to my standards. This one is no different.

I have owned several GM trucks so I'm thinking this is similar in a lot of ways. I always wanted a Yukon or Suburban so this is my first. Got to get the bugs worked out so I guess thats what brought me here. I always learn a lot on these forums.

Looking forward to learning a lot on this forum.