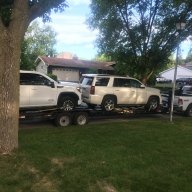 Joined

Nov 12, 2022
Posts

35
Reaction score

55
Take a look at the engine on both sides where the exhaust manifold attaches to the engine block. There are 4 exhaust ports on each side that the exhaust manifold connects to exhaust the fumes through the exhaust system (catalytic converter, exhaust pipes & mufflers). At each of those 8 mounting points (4 on each side of motor) where the exhaust manifold attaches to the engine, look to see if you have an missing/broken bolts and/or black soot around that port.

I attached a photo and circled in red where to look.

Visually sometimes the bolt is still there but its actually broken further down.

If any bolts are loose, missing or broken or if black soot is present around any of the ports, that could be the source of your ticking sounds.

If it is the case, there are much cheaper and easier ways to fix it rather than removing the exhaust manifolds to remove the broken studs.