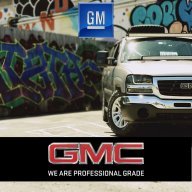 Joined

Dec 18, 2019
Posts

36
Reaction score

25
Location
Ok so I'm never one to ask anything much on forums, generally I can find from previous post if ever I get stumped but I'm not to proud and not able to find an issue anywhere near mine...... nor can a few others .... had to make sure it wasn't me tripping or missing something simple... which I was neither. So 2001 yukon ...billstein zw7 full conversion (springs and shocks....BTW I will never do that again...pay for the outrageous priced nivomats) stock 20 in trail boss wheels and tires, 2 in wheel spacers, 13 piece front suspension kit from 1a auto and 2 new wheel hubs...

So here is my issue and after explaining the issue I will follow up with the above listed in a detailed time line this showing how now of the above listed contributes in any way shape or form to my issue....

Problem: when I put the truck into reverse, as I'm rolling, my front wheels begin to "cave" in. By that term I mean the front two wheels simultaneously both begin to toe in (forwardmost parts of tires point to 1 another) as well as they will both "k" in (upwardmost of the tires also point to 1 another)... naturally it'll drag the wheels also pulling truck downward in the front forcing me to start a 35 point turn sequence just to back into my driveway or make any attempt to turn around... once I place into drive and start rolling the wheels will pull back into its correct position as if it never took place..... wtf kinda **** is this?!

Now let me take you through my diagnostic process ruling out anything I could think would contribute both the maintenance and aftermarket add ons I did and also anything I could think period could possibly be a cause both direct or indirect

So after obtaining the truck from my brother, I retired my 1st yukon due to blown 4-L-******, he only had the truck about a year but 2 months prior to trading me trucks and shortly before it was stolen outta his driveway in Dallas, he had replaced all 4 tires. So first thing I did was take my factory 20 in honeycombs and swap them with the 16s he had. I work out of town alot so immediately I was due in Kansas, so off I went. After returning from Kansas I noticed it was time to replace the ko²s I had wrapping the honeycombs, they were only about 40% before the trip but noticed heavy wear this along with my experience driving it for the first time sparked my ordering the 13 piece front end kit from 1a auto and new shocks. Being that I have the lovely zw7 nivomats and knowing the cost to replace the 2 I decided to go with billstiens zw7 conversion with the series before the 5100. So once I received every thing I installed. After installing front hubs center link pitman arm idler inner outer tierods upper control arms and lower ball joints front shocks and rear shocks with provisioned springs correcting the sag that occurs from the diffrent spring rates from those who just place conventional shocks in place of the nivomats, I perform a rough alignment and would have been good with it but because I planned on replacing the tires soon after and the amount of miles I put on the truck for work I decide to take it in for an alignment. After I get the truck back I begin to notice my camber is off so I take the truck back to the shop he takes it in after seeing that it's was in fact bad. He calls back and I pick truck up again and haul ass across town for some errands before another upcoming job. I hop out when I get where I was going only to notice truck still had camber issue worse than before. Next day I go to shop again reluctantly he looks truck over because I noticed on my printout the tech set machine up with 15 in wheels (as to which he claimed didn't matter)...even though I specifically pointed out they were 20s but he calls me back explaining the truck was good as per machine after correcting the data. So upon picking up my truck he explains what my problem was claiming my bumper was the issue not wheels...( because I had just installed a 2015+ silverado hd custom bumper) saying my install wasn't factory thus giving an illusion of wheels being off in reality it was my install.... well as bulshit it was I wasn't going to argue that bumper or not the camber was there but wife. So uneasy of the trip with my tires dragging my tool trailer I begin searching for a set of pulloffs to get me through till I get mine wrapped in new rubber. I end up purchasing a buddies set off 22 in honeycomb replicas. He totaled his truck and they had set in his garage for the last 3 yrs. Threw them on the beast hooked up and was gone. About 15 hrs into the 21 hr drive I began to notice a small vibration and it progressively got worse... just my luck so it was known I would be replacing the rubber on this set too prior to my return home to replace the previous set. Now at my next fillup roughly have 3 to 4 hrs left the vibration felt was now far worse and noticed the wheel behind the one who's bands separated now causing a bubble, had a huge chunk missing showing wire. Fml... so during the job I goto a local shop replacing all four tires... should be good right.... **** no I get an hour out. From the house and have a blow out on one of the 4 brand new tires. Go figure I get a defective tire... contacted shop directed me to manufacturer who directs me to a local authorized dealer to handle warranty. Take the truck and they tke the wheel we goto front then they give a subtotal... lol not sure the confusion here but it was stated from the start this was warranty.... well they denied warranty due to the tire was improperly installed... da fuq you mean? And how is that my problem. Well it blew because the tire was mounted on a 22x9 and tire calls for a 22x10.... that transpired a year and a half battle with discount tire and general tire. So in that year and half I was forced to purchase another set of rubber for my original honeycombs or again search some cheap takeoffs. Find a set of oem trail boss with 20 miles on them luckily my plant manager was looking to sell. So I install them and decide to again align my truck with a diffrent shop because I refused to deal with a shop that had no sense or integrity because they were brand new as well would be the 22s and my 20s soon. Get a 1 year warranty and prepped for an upcoming Illinois job following behind it with a Wisconsin job and back home. Well halfway to Illinois upon my routine on the road fillup checks over my truck and trailer I begin to notice wear on the brand new wheels. Wtf well I can't do much about it and forced to roll on until I could find time to address it. Now the wear noticed was low and behold my inner most of the wheel... much like one would get with they're camber is fkd like I stated countless times. By the time I hit Wisconsin I realized a clunk everything I backed in... da fuq? Well find my camber/caster hardware is moving. Throwing it in and out no matter how tight I run these they begin to slip.... so I read forums and find that these are known to move over time and they make locking type plates to pin it still and prevent slipage... order and install before I take my truck back to now Firestone for the warranty alignment. That's been over 2 months ago and still haven't taken it due to my inability to get it roughed in enough to drive it on the new 22s I finally got replaced. So before Illinois I put on 2 in wheel spacers to fill up the wheel wells better after the pocket flare fender flares installed. I began thinking that was causing the scrubbing/dragging so removed them for a while and found they were not a contributer considering it still did it without them so I reinstalled. Well next I thought maybe it could be the lift keys I ran to pick up the front end due to it already looking low it really looked low with the oem custom hd bumper the 2015+ having a much greater height overall compared to its 2001 cousin. Rolled that out again with or without still was a issue. I raised front wheels off ground and performed a quick check of the front end again by grabbing top & bottom of wheel rocking verified ball joints still good next side to side verifying they were good. Then bared under the tire verifying wheel bearings all good no play so equipment failure or wear is rules out I check the pitman and idler also no issues there. I check lower control arm bushings after reading that cammed bushings can be installed for those with a need for additional 1 to 2 degrees to correct alignment so a bolt head shows some what looked to movement. But nothing of such to even be remotely noticed or constitute the amount of movement of the caved it wheels. But I plan on finding and replacing the bushings because in my eyes that is the only contribution left not replaced


Yes I rough aligned it recently pulling tape as a reference I have even adjusted to both in and out of specs neither of which helped.

Wtf is the issue?! Now later I plan on setting up a few gopros under as I roll forward and backwards to replicate the issue recording as much underneath to watch in motion. Because as far as hardware nothing has moved.

Yes the removable cross member is in place as it should be...
Never have ibever even heard of any **** like this .... please help figure wtf. Sorry for the in depth post and thank in advance..