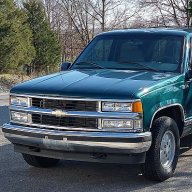 Joined

Mar 23, 2023
Posts

168
Reaction score

246
I have the dash mostly opened up. Couple of dash illumination lights out. Planning on switching to LED if I can find the right units.

One of the auxiliary power outlets doesn't work. Can't figure out why and can't seem to get behind it to investigate. The other one does and the cigarette lighter does, so the third may not be worth messing with.

I have the upper cowling off and can see the screws for the instrument cluster, but is there anything I need to know before trying to pull it to get to the lights?

Glove box is out and I can see then blower motor, but not sure where to go to deal with the speed issue.

Cruise control doesn't work, but I may not bother with that if it's complicated or expensive.

Working on a home brew console to sit over the center hump. 60/40 seats, so no center console.


If there are existing threads, point me to them. I never have much luck with searches to get to the most relevant information.