Notice what I did in the title there
???
I did that in case I get lazy... I don't want to end up in the same boat as Pete
@Galante
... lol
So let me start this off with a pic of our last truck. It was a 1st Gen 2000 Cadillac Escalade, bone stock when I bought it aside from the 2006 5.7L crate engine and billet grill.
It was not real heavily modded as I have a wife and 3 kids so "play money" is hard to come by. At that time I only had one kid and I do all of my own stunts so that saves money.
I added 22" wheels,
Removed the running boards and installed Tahoe LIMITED side skirts,
Limo tint all around,
Big Cadillac emblem from one of the newer cars, can't remember which one,
Custom LED tails,
Custom LED front turns,
HID fog, low, and high,
Pioneer AVIC N4,
Removed Bose amp replacing with JL Audio 6 channel for mids and highs,
5 farad power cap,
3000 watt class D mono block pushing a pair of Audiobahn 12s,
Had alternator rewound to 200 amp to compensate for the power draw, also installed a smaller pulley on the alternator to help with charging at idle,
Removed engine driven fan and installed a modded set of GMT900 electric fans, picked up some MPG.
7" headrest monitors,
15" flip down which was a bit challenging installing with the sunroof,
Probably a whole lot more that I am forgetting but that isn't really the point of this thread so I will post a couple pics and get on to the main event.
These started life as clear LED tails. I opened them and installed the extra 2" round light at the top where the round reflector normally resides and wired it up to the brake lights. I also added the CADILLAC script to the inside of the lens right above the reverse light. Keep in mind this was after I sprayed them ruby red but before clear coat.
Here is a pic of the front turn signals I modded. These are actually LEDs for the front of a Semi... did I mention I drive a truck for a living?
Ok an overall pic showing the Tahoe Limited side skirts and the BIG Cadi emblem in the billet grill and I will stop boring everyone.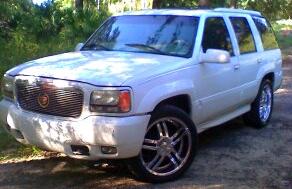 Ok not sure how many pics I can add to a thread, I know some forums restrict you to 5 so next post will start the Burb "mod" thread.
Last edited: