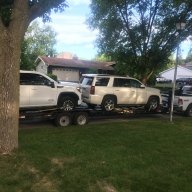 Joined

Nov 12, 2022
Posts

35
Reaction score

56
I've been seeing a few oil catch can threads lately, so I thought I would install one on my 2015 Chevy Tahoe LT.
I installed one on my Jeep Wrangler last summer and liked the results, so I'll see if this one yield the same, if not better results.
There are some really nice catch cans out there in the $200 - $500 range and I wouldn't mind if my wife gave me one as a gift
but I just went with a $30 one from Amazon with the quick connect connections.
Here is the video of me installing it. I made my own mounting bracket but in the end I didn't like how crude my home made bracket looked, so I'll be changing that in the spring.
Last edited: