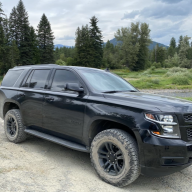 Joined

Jan 9, 2021
Posts

218
Reaction score

248
Hey guys, I know this is probably a beat to death topic so I apologize in advance.
I'm about to pull the trigger on some new tires for my Tahoe and I'd love some advice or personal experience input here.
Right now I have the factory 265/65/18 Michelins on the factory 18" wheels.
I'm wanting a beefier and taller tire for a few reasons.
1. Looks - duh
2. I spend summers in Idaho and rural dirt and gravel roads and occasionally some muddy fields.
3. I spend winters going to ski resorts
I'm going to buy some new BFG KM3's from costco and have them mounted up in the next week or so.
I have some Bilstein 5100's set to the highest setting up front to bring the truck to a perfectly level stance.

I'm unsure if I can fit a 285/75/18 tire or if 275/70/18 is as big as I can go without running into significant rubbing at full lock?
Anyone have any info they care to share or any personal experience with these tires on their Tahoe?
Pic for attention..
Last edited: