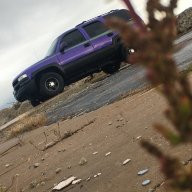 Joined

Nov 20, 2019
Posts

87
Reaction score

82
Location
I've recently changed my fuel pump, filter, and lines. Everything went back together as usual. Went to leave work after driving there(roughly a mile), and turned the truck on with no start symptoms. Of course I smelled the area, and smelled fuel. Checked my fuel pressure gauge on the rail, showing 0psi.
I grab my flashlight, and there is good amount of fuel puddled under my truck.
Needless to say, the outlet side of the fuel pump(leading to the rail), push fitting keeps popping off. Brand new female fitting, brand new pump/pump male fitting. I dropped the tank in the parking lot at work. Great way to get off work at 1:30am right? Pushed the fuel line on, heard the genuine snap, gave a few tugs and pulls, and it remained connected. Sock up the gas from the top of the tank, wash it off with some hot water from work, start the truck. Get home, turn it off, try and start it again. Nothing. Smell of gas. 0psi. Pouring gas, and puddles. Any ideas on why it keeps coming off?