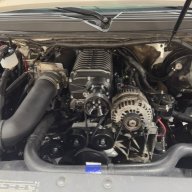 Joined

Aug 2, 2018
Posts

3,046
Reaction score

3,580
Thanks,
@George B
. Your test of Tow Mode intrigued me, so I repeated the same road test and Tech 2 recording with the Tow Mode on. Under this scenario, I did receive a number of 95% spikes, but not nearly as many as your road test generated.
It does not appear that any of the other folks with Z55 suspensions on this Forum have any additional suggestions for me to troubleshoot at this time, so I believe that my next step is to purchase a new ESCM and see if my road test results change to more closely mirror your road test results.
I have read that a new ESCM requires programming/calibration upon installation, but I do not see any functions on my Tech 2 regarding programming/calibrating a new ESCM, other than the Auto Level Control calibration. Is anyone aware of any other required procedures for installing a new ESCM?