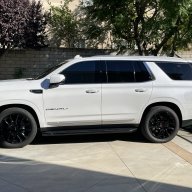 Joined

May 2, 2022
Posts

43
Reaction score

52
Your starter was toast because it tried to spin a locked up crankshaft? That would be correct.
A little context for you: your car dies and you coast to the side of the road. There's two children under 2 years old sleeping in the back seat, it's 3pm and it's 80 degrees outside. Let me know if there's something else I should have done besides try and start my car again..? Pls try and add an ounce of value with your comments in the future.
I was merely sharing for Clojycz, so he could prep to likely also be ready to replace his starter.