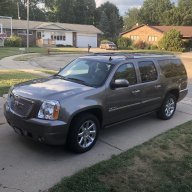 Joined

Dec 26, 2017
Posts

9,248
Reaction score

23,971
Location
I would have no problem making an individual cell charger or making a 300V+ charger... if I had to go that route. I'm going to try the onboard Jump-Assist first. I just need to get a Tech 2.


I'm not sure I understand your remote start button comment --- I think 2x lock then start button is to remote start procedure, not to put the system into Jump-Assist.
Are you sure you need a Tech-2 just to jump the vehicle using another vehicle with a 12V battery? In looking at the manual for your vehicle, it shows how to jump with a 12v vehicle but doesn't mention anything about needing a Tech-2. The post from another forum that I shared mentions the Jump-Assist, but I'm not sure that's the same thing as what is outlined in the manual. I'll admit, I don't have a Hybrid and am only going off of what I read in the owners manual for your vehicle.