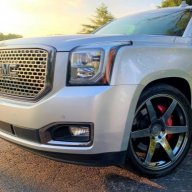 Joined

Jul 18, 2017
Posts

940
Reaction score

662
2015 Yukon Denali XL Exterior is finally done so I figured I'd create a thread and post some pics of how it sits currently and a bit on the process to complete the mods. All chrome has been deleted with either OEM parts painted to match, replaced with OEM Gloss Black trim pieces, or OEM parts finished in Black Chrome; There are 3 items that are vinyl wrapped. This is going to be a bit lengthy and detailed with a lot of pictures.
I wanted to do a chrome delete, but didn't want to just do everything in gloss black. Partially because although it looks good, it's pretty common, and I wasn't going to have gloss black wheels for the summer, only my winter wheels are gloss black so I wanted to do something different.
I'm a pretty big fan of PVD finishes; They're durable, look good, don't add a bunch of weight to whatever is being coated, and they're easy to clean and maintain. Since I was chasing a chrome delete, not gloss black, I was going with PVD Black Chrome. However, as most of you know the PVD process is similar to powder coating, there's baking involved. Which means you can't go PVD coating plastic trim pieces like OEM Front Grill and OEM fog light bezels. I really had no idea how I was going to get those items to match the PVD Black Chrome rims until I found the right vendor.
Enter in CalChrome -
https://calchrome.com/
They have the ability to Black Chrome paint OEM bright plastic trim pieces to match PVD Black Chrome coated parts such as wheels.
The front grill was a bit of a process...
The front grill is the E&G Classics Stainless Steel "Z Grill" grill insert. This piece was in fact coated in PVD Black Chrome with the exact same process that the wheels were. So then I purchase a brand new take off OEM Yukon SLT grill and proceeded to modify that for the E&G grill insert. Part of installing the E&G Classic Stainless grill insert is removing the front chrome plastic trim in the center portion of the grill. Like this:
Once that was completed I wanted to remove as much of the black plastic portion of the grill as I could, while still leaving in tact the areas the E&G Classics grill insert needed to be attached with hardware and the minimum amount that needed to remain to support the front OEM "GMC" grill emblem. Here is a generic picture of the back side of an OEM Yukon SLT front grill. The two areas that I have made red outlines of represent the total area of black plastic that I trimmed off with a Dremel and cutting wheels.
Calchrome ended up painting the outer lip of the OEM Yukon grill Black Chrome as well as the two OEM fog light bezels all at the same time so they would match and as an exact match to the wheels. Very happy with how all of the parts from Calchrome came out, those guys know they're stuff, are super detailed, and have great communication. Highly recommend using them if you need any of their services.
2015 Yukon Denali XL Quicksilver Metallic over Black Leather and currently sitting at 117K miles and shooting to get another 120K miles out of it!
EXTERIOR
E&G Classics Stainless Steel Grill Insert coated in PVD Black Chrome.
OEM Yukon SLT Grill with outer chrome trim painted Black Chrome.
OEM Front "GMC" black grill emblem also painted Black Chrome.
OEM Front Fog Light Bezels painted Black Chrome.
OEM Rear License Plate Applique painted Quicksilver Metallic (OEM Chrome on Denali models).
OEM Yukon SLT rear bumper step pad, all black (OEM Chrome lip on Denali models).
OEM 2019 Suburban RST Gloss Black window trim.
Chrome trim on OEM Power Retractable side steps gloss black vinyl wrapped.
Chrome trim on OEM roof rails gloss black vinyl wrapped.
OEM Front Air Dam trimmed.
OEM Exterior Door handles chrome wrapped in 3M 1080-G120 Gloss White Aluminum (Perfect match to OEM Quicksilver Metallic Paint)
Front windows tinted to match factory rear window tint
SUSPENSION
Norcal 2015+ GM SUV 1"-4.5" Rear Adjustable Kit
Low Profile Rear Bump Stops
Rear Free Travel Mod
DJM Rear Swaybar Endlinks
Front Belltech 2" Drop Spindles
GM OEM Aluminum Front Upper & Lower Control Arms w/ Prothane #7243 Polyurethane bushings installed
Prothane Polyurethane bushing install thread here:
https://www.tahoeyukonforum.com/threads/front-and-rear-control-arms-polyurethane-bushings.125654/
Spohn 2007-2014 GMc SUV Rear Adjustable Panhard Bar w/ Polyurethane Bushings
Spohn 2007-2014 Boxed Rear Lower Control Arms w/ Polyurethane Bushings
Hotchkis #2292 Front and Rear Swaybar Kit
Front inner fenders lightly modified with some minor trimming and reshaping the fender liners with a heat gun.
Wheels do not rub front fender liners at all, but I do have slight contact at the front sway bar. This was present with both OEM and Hotchkis swaybars.
I didn't end up getting a full 2" drop up front out of the Belltech drop spindles so my net drop front and rear are as follows:
Front drop 1-1/4" ride height at 34-1/4"
Rear drop 2-5/8" ride height at 34-7/8"
BRAKES:
Wilwood TX6R 16" 6-Piston Front BBK
Wilwood AERO14 14" 4-Piston Rear BBK
Wilwood Stainless Steel Brake Lines
Wilwood Hi-Temp 570 Brake Fluid
SUMMER WHEELS
Rennen Forged Monolicht Concave Series M-6 Concave Wheels
PVD Black Chrome Finish
24" x 10" +28mm offset
Weighing in at only 36lbs. per rim.
This shaved over 10+ lbs. of rotating mass at each corner over the OEM 22" x 9" wheels.
305/35/R24 Toyo Proxes ST-III's
Here are some up close shots of the door handles wrapped in 3M 1080-G120 Gloss White Aluminum so you can see how good of a match it is to the OEM Quicksilver Metallic Paint